Records were set and history rewritten!
View all auction lots and results here.
On May 1st, live online from New York City, in conjunction with the IPBA annual convention, 192 lots crossed the block in the Perfume Bottles Auction. The sale generated over $600,000 including premium, selling through two internet platforms, phone and order bids. 74 Lots sold for less than $1,000 and half of those sold for under $600, making it accessible to any pocketbook. Much of the material was dispersed evenly among collectors and foreign museums.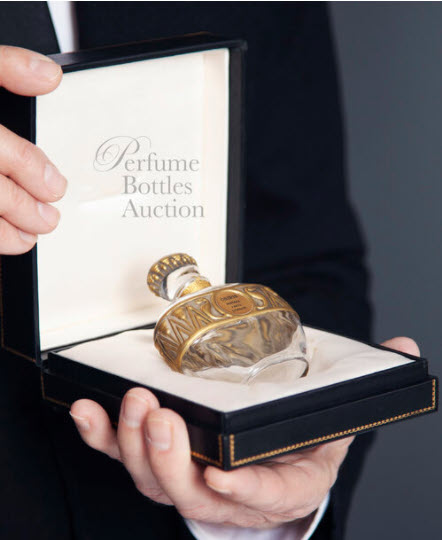 An important 1914 Baccarat bottle for Vinolia's "Osiris" left its $50,000 high estimate far behind when it sold for $102,000 with buyers premium. The bottle's result not only set a new world record for a Baccarat commercial bottle at auction, but with new information provided by the consignor regarding the bottles history, its appearance corrected previous misidentification in the Baccarat archives.

Another Baccarat bottle for the 1930 Corday "L'Heure Romantique" brought $24,000 in its rare Art Deco box.
Among a fine grouping of early Rosine bottles by Paul Poiret was an undocumented glass version of the 1922 "Antinea, ou au fond de la mer" finishing at $3,900, rare because it had only previously appeared formed of metal.

Highlighting numerous designs by Rene Lalique was a 1923 counter display for D'Orsay sold for $7,200; a 1912 D'Orsay "Camelias" powder box at $6,875; and an example of complete perfume presentation for the 1924 Isabey "A Travers la Voilette" (Through the Veil) bringing $18,000. The bottle portrays the name with its surface enameled as if the perfume is being viewed through a veil, and the box cover repeats the theme with an embossed illustration of flowers seeming to penetrate a veil with their fragrance.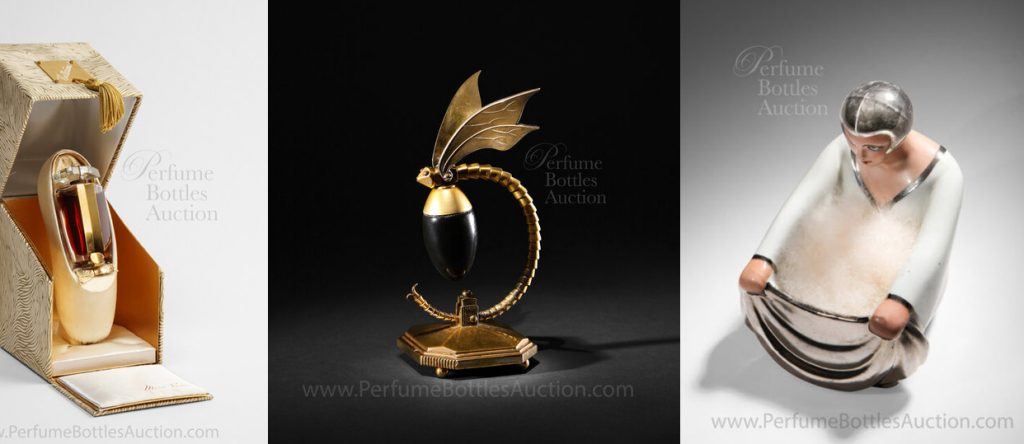 On pointe, a 1940s Marie Earle "Ballerina" bottle in box pirouetted to a $10,000 result; a hot air balloon for the 1892 P.N. Perfume Co. "Superba" rose to $2,160; a 1920s Hetra blown glass kangaroo for "Pour Vous" brought a hopping $720; and an exceptionally rare 1928 DeVilbiss atomizer formed as a dragonfly soared to $9,600. In addition, the sale offered unusual novelties, Art Deco porcelain powder bowls, extravagant puffs, many boxed commercial bottles, and 19th century items including a Palais Royal carriage with horses sold for $3,600.

A beautiful selection of Czechoslovakian bottles included a black crystal Vogel and Zappe "Butterfly Girl" $10,800; a blue-green Johann Umann bottle with black jewels $14,400; and a Heinrich Hoffmann black crystal bottle with large rose quartz "Buddha" jeweled mount, that fetched $39,000.
The detail and proportions of a Galleries Lafayette-Terre de Retz "Pirate Ship" powder box brought a frenzy of competitive bidding sailing to a $15,600 finish.
The auction was exciting, entertaining, and attracted more than 400 bidders watching and participating worldwide, with many compliments on the print catalogs new look, it's fold-out page, and informative lot notes.
People have come to expect the Perfume Bottles Auction to deliver unimagined objects of desire in original and best possible condition. It is the only dedicated auction of its kind in the US, and a portion of the sales proceeds benefit the IPBA.
For more information, visit Perfume Bottles Auction or call: 212-888-0165