The Perfume Bottles Auction on April 28, offered 152 lots of curated items sourced from as far away as Norway and Brazil, representing several consignors and earning an impressive result. This annual spring event is a highlight of the International Perfume Bottle Association convention and contributes 5% of it's earnings to the IPBA.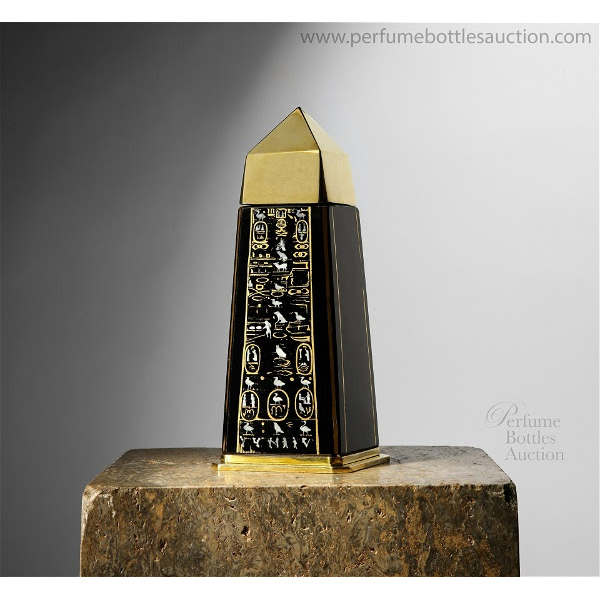 Top lot of the sale, bringing $75,000, was a superb black glass obelisk shaped bottle with enameled hieroglyphics and metal pyramid cover from the collection of an American socialite.
The 1934 bottle for Burmann's "Pleine Lune Sur Le Nil" ("Moonlight on the Nile"), when found to be too costly to produce, was ultimately never released to market.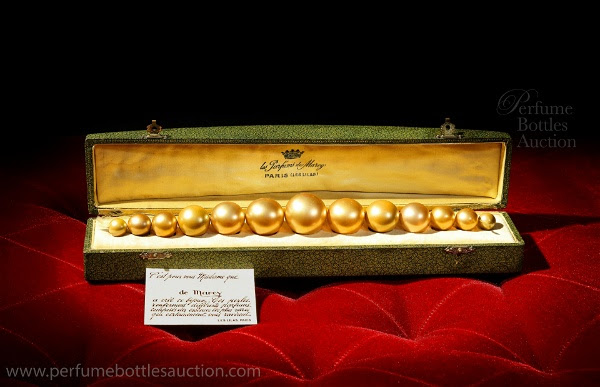 Three rare 1920's trompe l'oeil (fool the eye) presentations by Parfums de Marcy fooled no one as to their value, piquing the interest of the most sophisticated collectors.
The 1927 "Le Collier Miraculeux" ("The Miraculous Necklace") appearing as a strand of 13 graduated pearls rolled out at $13,200.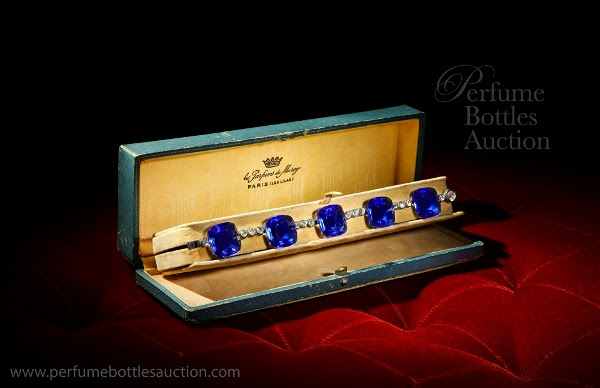 The "Le Bracelet Miraculeux" ("Miraculous Bracelet") simulating a bracelet of sapphires and diamonds resulted in a sparkling $48,000.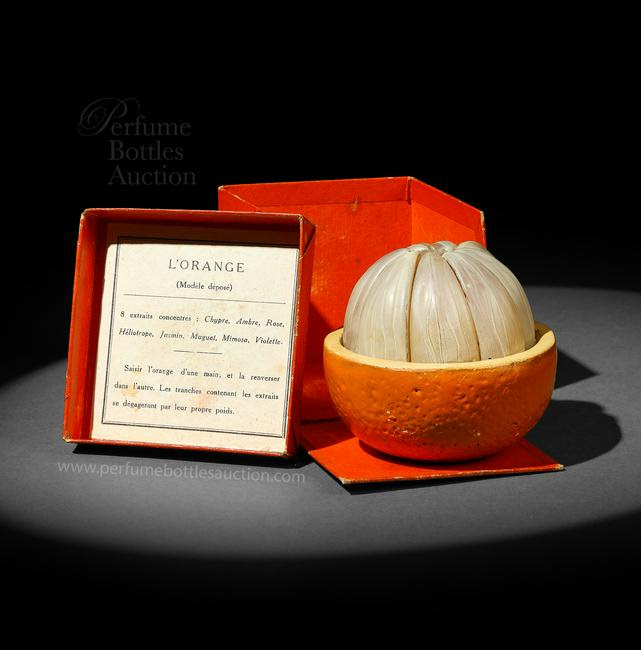 The highest presale interest focused on the 1925 "L'Orange" presentation of 8 bottles appearing as a half peeled orange, which opened bidding at the low pre-sale estimate of $600, then quickly jumped to $3,500 online, and with numerous impassioned bidders ultimately hammered to a phone bid of $45,000.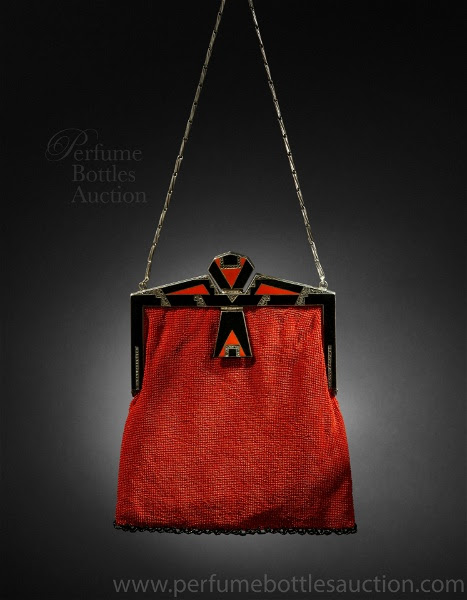 Art Deco design concepts were repeated thematically throughout the sale.
Notable among the purses offered was a dramatic 1930 black and red enameled silver Viennese hand bag designed by Ada Grunfeld fetching $12,500.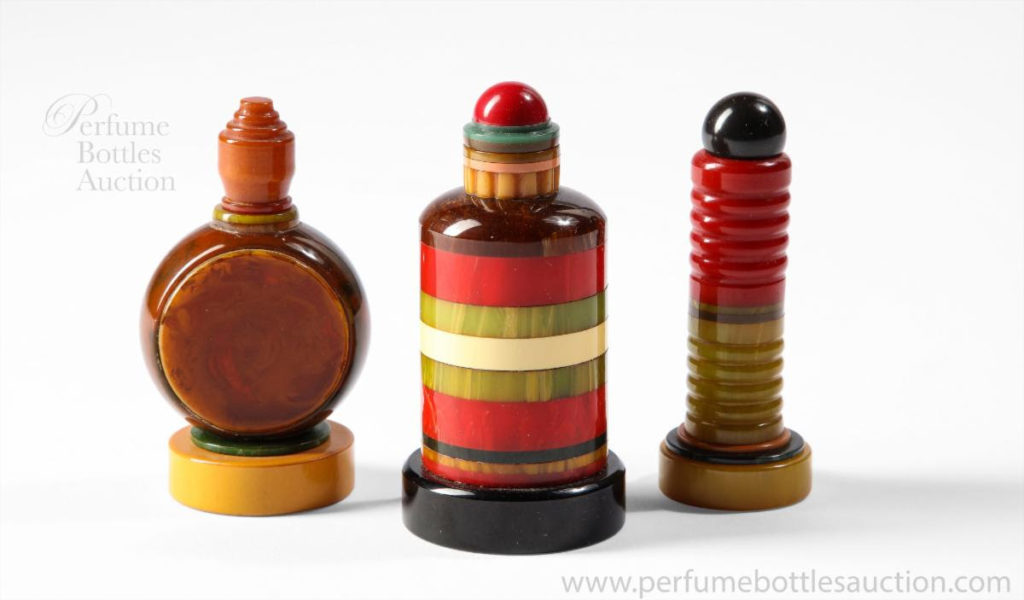 Two colorful lots of three rare Bakelite bottles each, attracted bidders with a studied appreciation for the forms and materials, which drove the results to $625 from a major New York collector, and $8,750 from a foreign museum.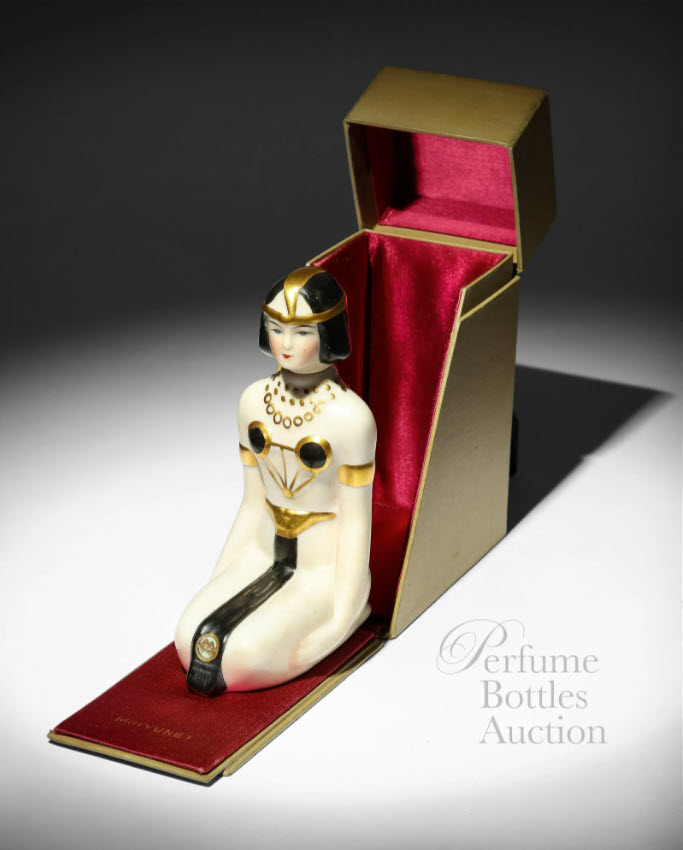 A group of 1920's items by the Fulper Pottery Co. offered figural perfume bottles from their trademarked "Porcelaine" line.
The "Mignonette" perfume bottle with box ended at $7,500.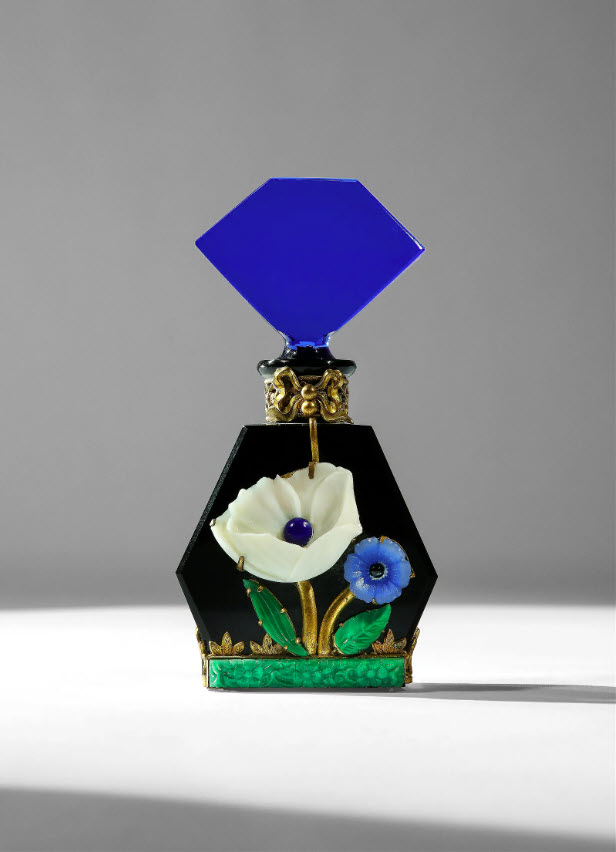 This auction never disappoints with its unmatched selection of rare 1930's Czechoslovakian bottles.
At the forefront was an exceptional Franz Josef Vater bottle of black glass with sapphire blue stopper in a Neiger Brothers floral mount $18,000.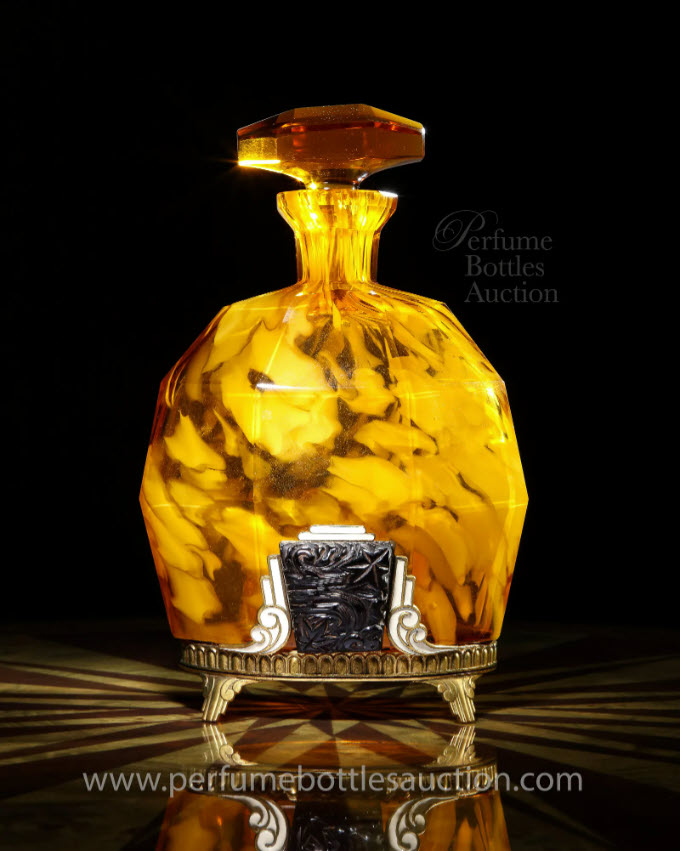 An amber Josef Schmidt bottle with white inclusions and enameled mount finished at $22,500.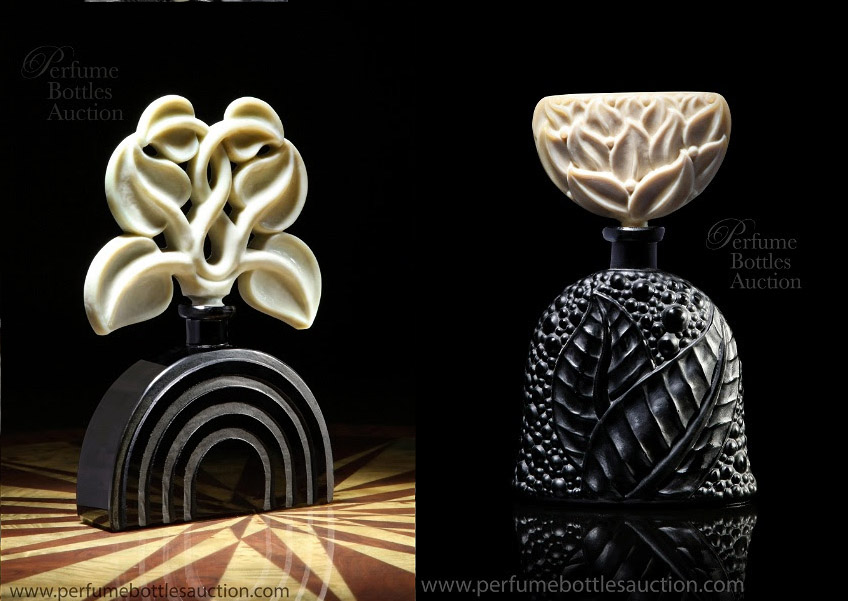 Two exceptional Curt Schlevogt bottles from the "Ingrid" line in onyx glass with ivory glass stoppers rose to $22,500 and $25,000.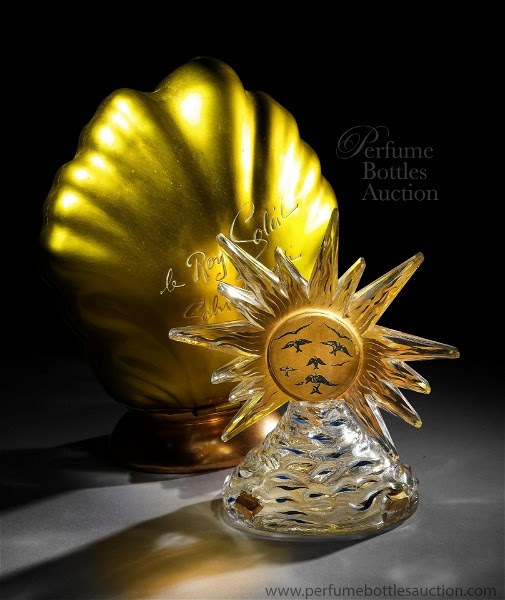 Considered the "holy-grail" of any commercial bottle collection, the Salvador Dali sunburst design in Baccarat crystal for Schiaparelli's 1946 "Le Roy Soliel" ("The Sun King") in it's elaborate shellform box brought $12,500.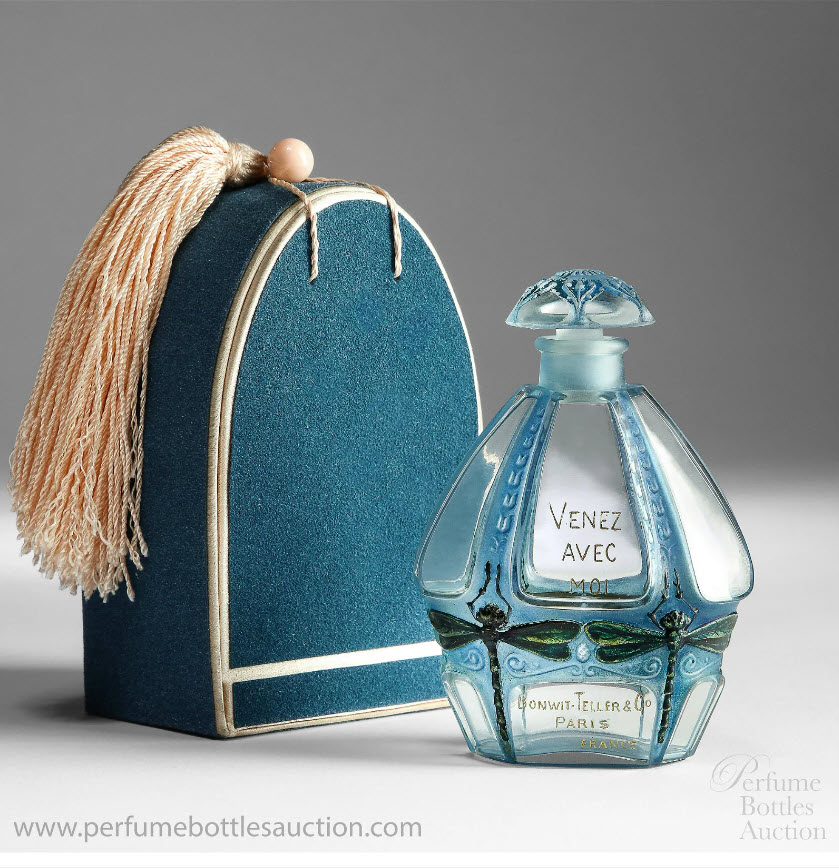 The 1924 Julian Viard bottle for Bonwitt Teller's "Venez avec Moi" ("Come with Me") with enameled dragonflies soared to $10,800.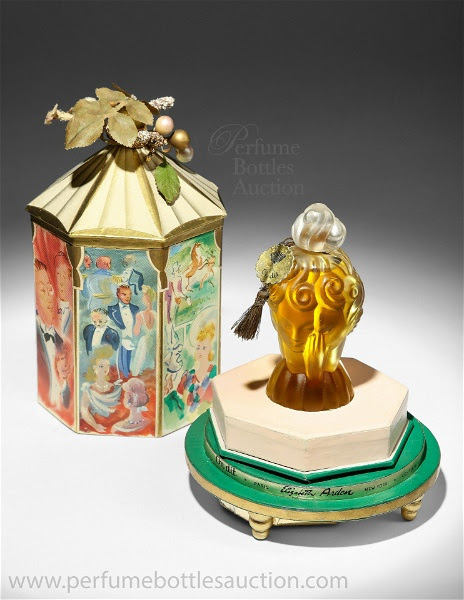 The 1944 Elizabeth Arden "On Dit" on its rotating musical stand sold for $9,600.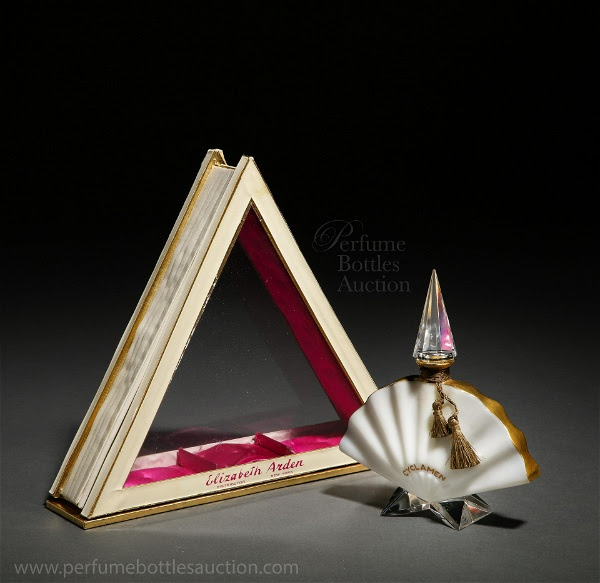 Another exceptional Baccarat bottle: the fan-shaped Elizabeth Arden "Cyclamen" sold for $2,040.
Results for lots not pictured here included:
Three unused 1930's purses with figural Bakelite clasps featured marching elephants $1,875; opposing Scottie dogs $1,000; and a wily fox $1,500.
Back in the plastics realm, a long handled 1920's Dubarry powder puff brought $125, and a 1910's moustache comb formed as a man's leg in shoe and sock ended at a kicky $1,500.
Among Fulper Pottery Co. items, three "Chin-Toy" Chinese maiden bottles sold for $250, $500, and $875, just ahead of a figural Egyptian perfume lamp $3,240 and a powder box $375.
Rounding out the sale's top highlights of bottles with boxes was the first appearance of a Paul Poiret 1928 Rosine "1935" which sold for $9,000.
The stunning 1922 Sauze "Carezza" ("Caress") bottle of black glass with gilded reptile motif fetched $33,000.
Many lots brought applause from the bank of phone clerks in New York, as well as the live viewing audience in Texas. Numerous lots doubled and tripled their presale estimates, although many also sold for under $500 allowing anyone with interest to participate.
Results mentioned above reflect the added commission. Full results for all auction lots are available at PerfumeBottlesAuction.com. A limited supply of auction catalogs are available there as well.