From the first hello to the last goodbye, our senses were overloaded at the Deep in the Heart of Texas 2023 convention – our 35th annual convention!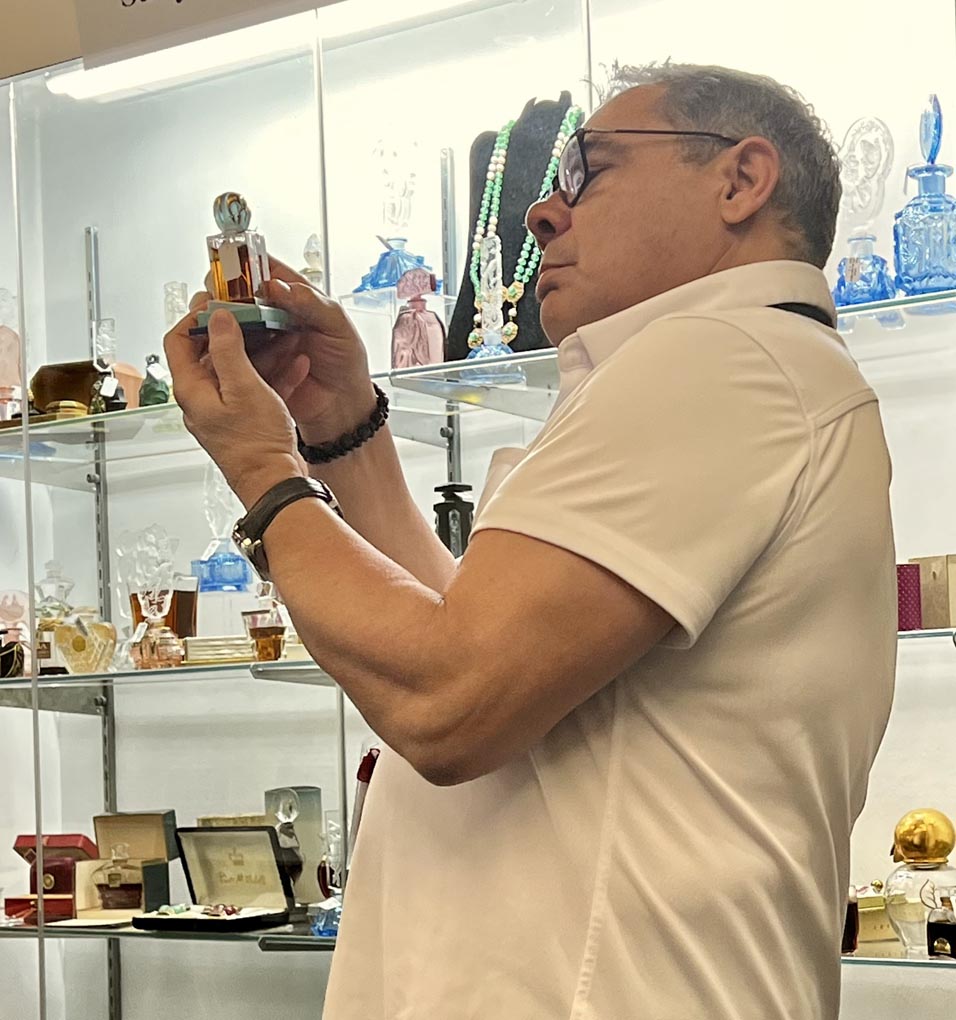 The kaleidoscope of colors, shapes, sizes and styles of perfume bottles, vanity items and printed ephemera in the Showroom kept our eyes wide open and constantly moving … until they landed on THE item that called out to us—and then we had to stop and touch smooth glass perfume bottles, embossed powder boxes, metal compacts and mesh purses. And there were so many more booths to explore!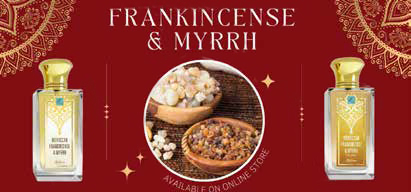 How can we talk about a perfume bottle convention without mentioning smelling delightful fragrances from two niche perfumers? Deborah LeBron's craftsmanship creates exclusive, unique scents.
The perfumes of Pink MahogHany, a Dallas brand by Chavalia, are composed as "an alluringly intriguing song … (taking) the wearer on a unique, unforgettable journey."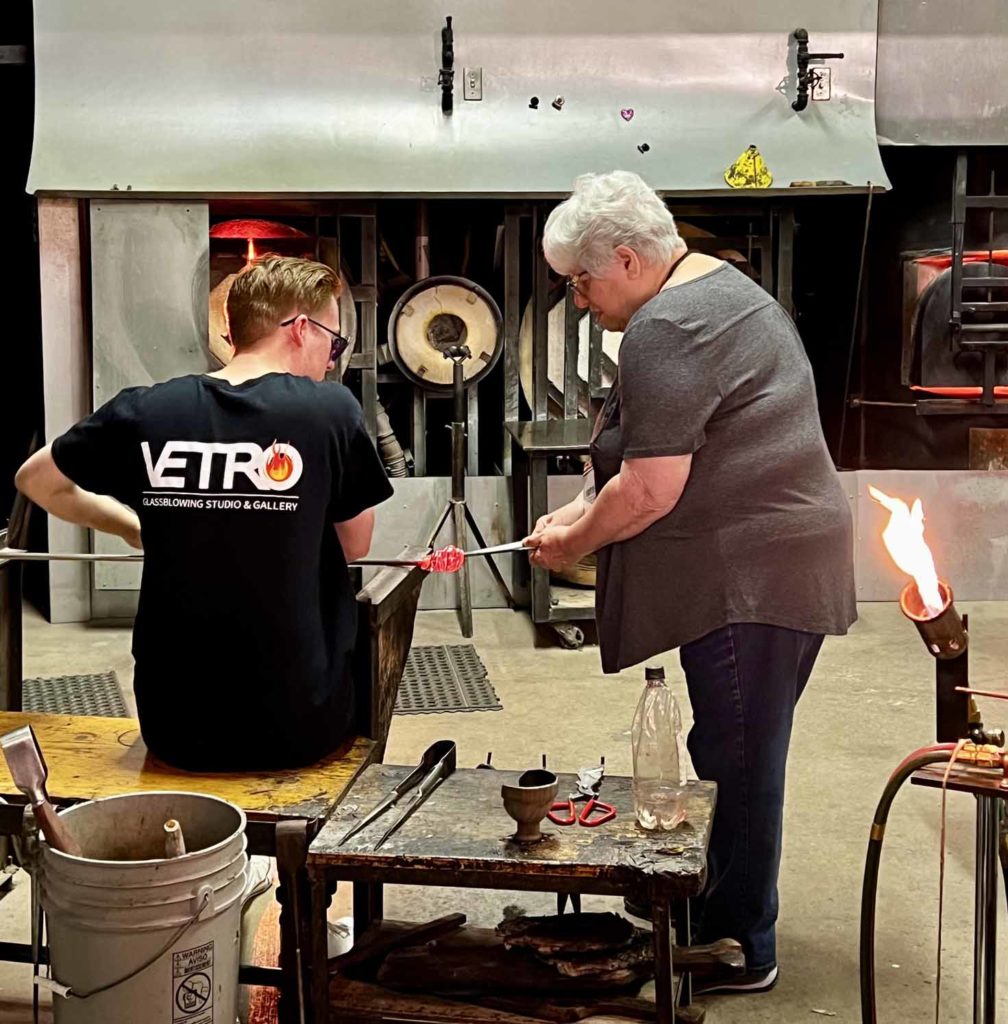 Early arrivals were able to start out with a hands-on tour of the Vetro glass studio.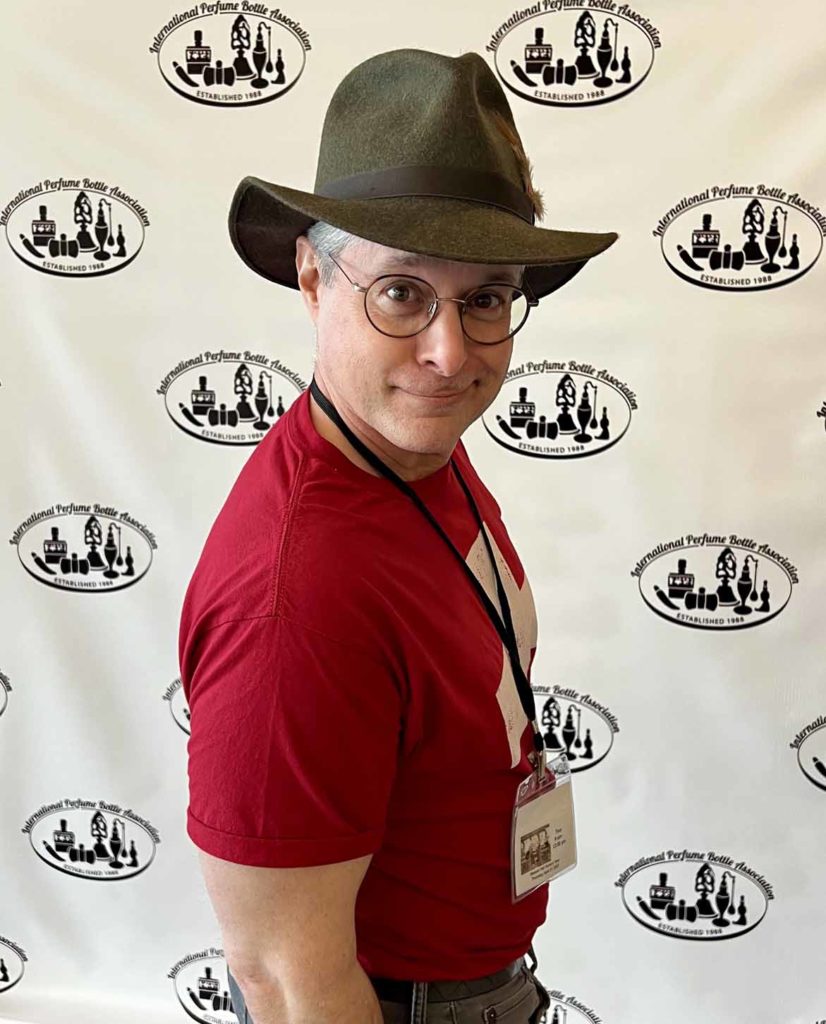 Followed by a tour of the Stetson hat factory.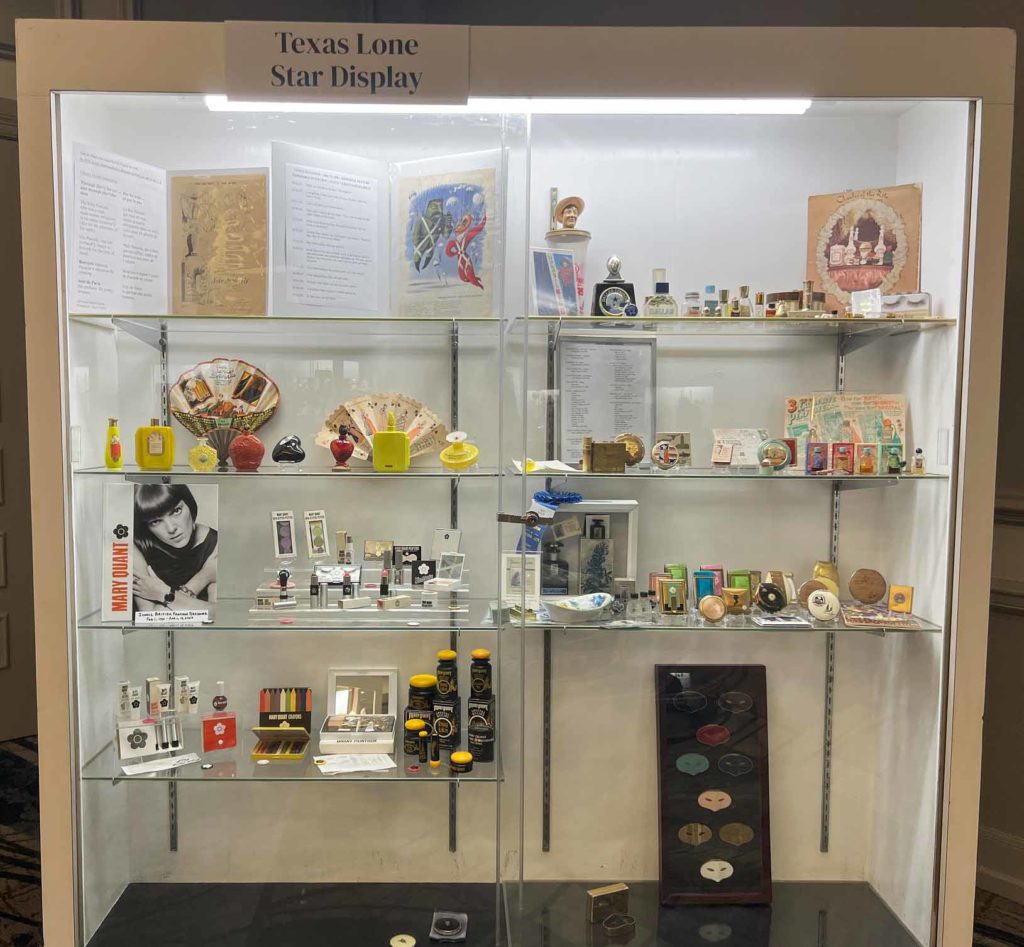 The Lone Star Chapter gave us a peek into one small part of their collections in an attractive local chapter display.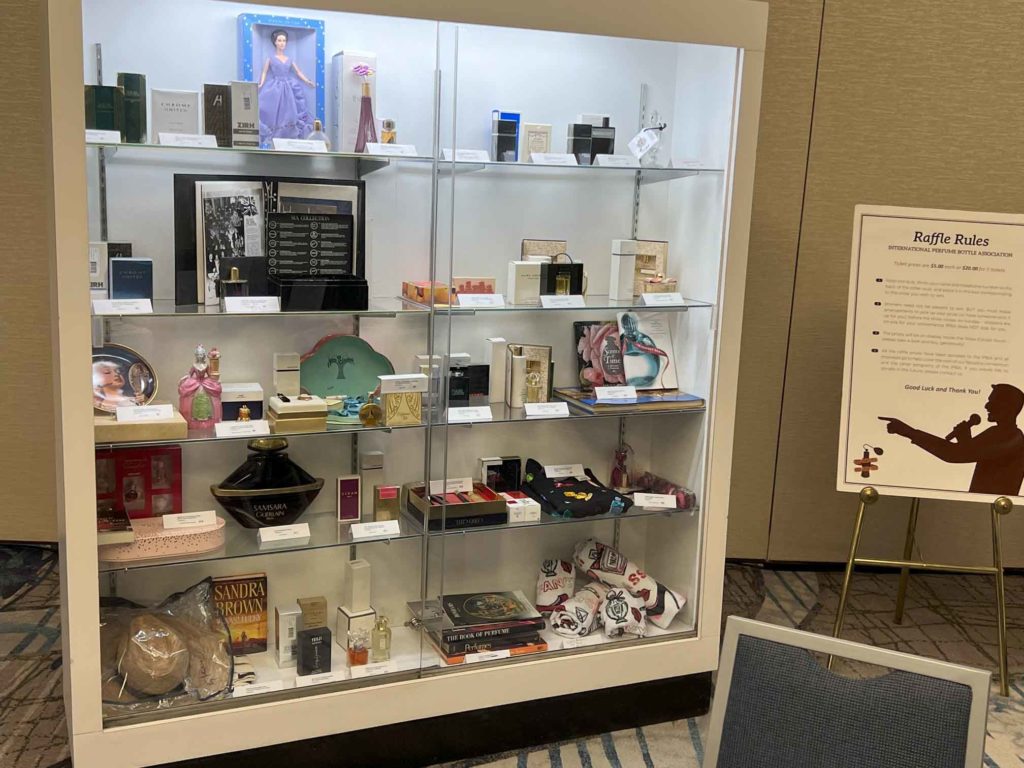 As always, the raffle contained a wide variety of treasures to be longed for …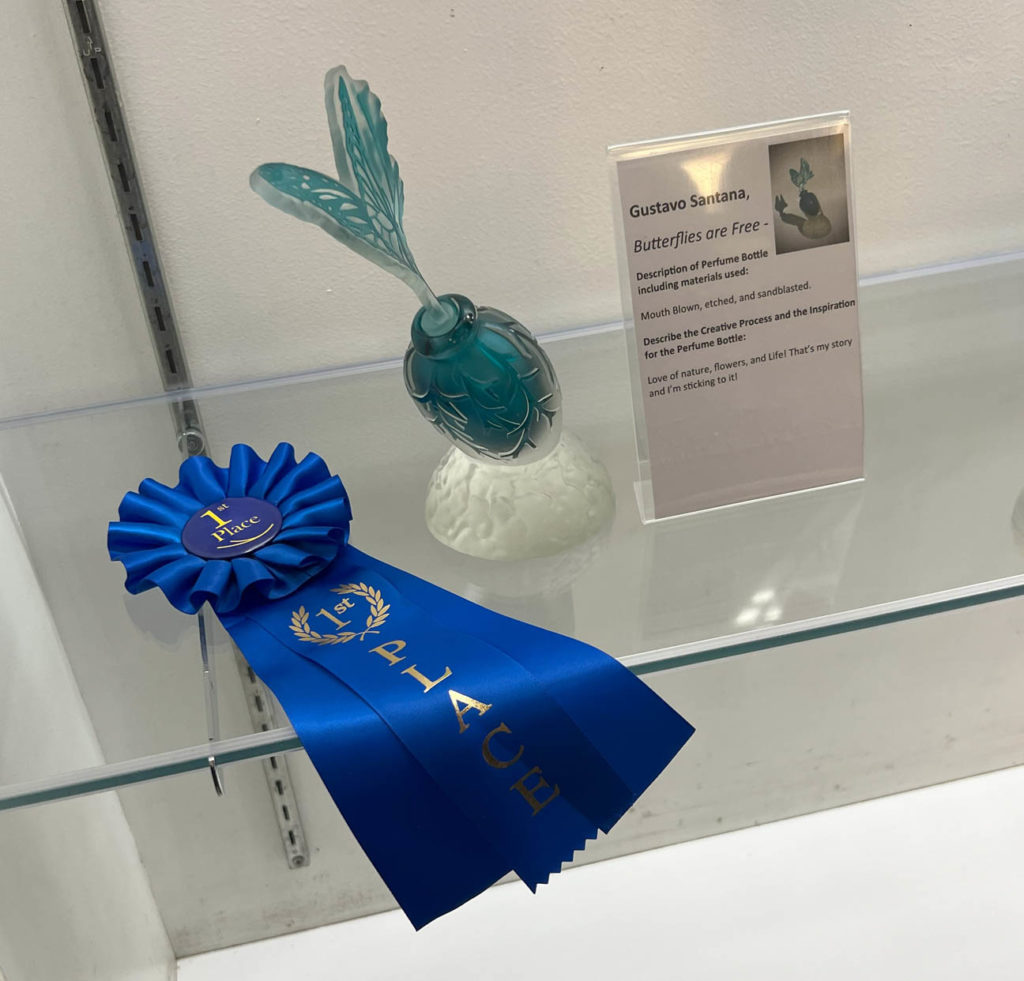 Next, there was the imaginative, ingenious, and innovative designs brought to full-color, 3-dimensional life in the Perfume Bottle Design Contest showcase.
Nine talented artists submitted 26 designs with the top ten finalists on view. It was so hard for members to decide. When the votes were tallied, Gustavo Santana placed First and Second. Elaine Hyde placed Third.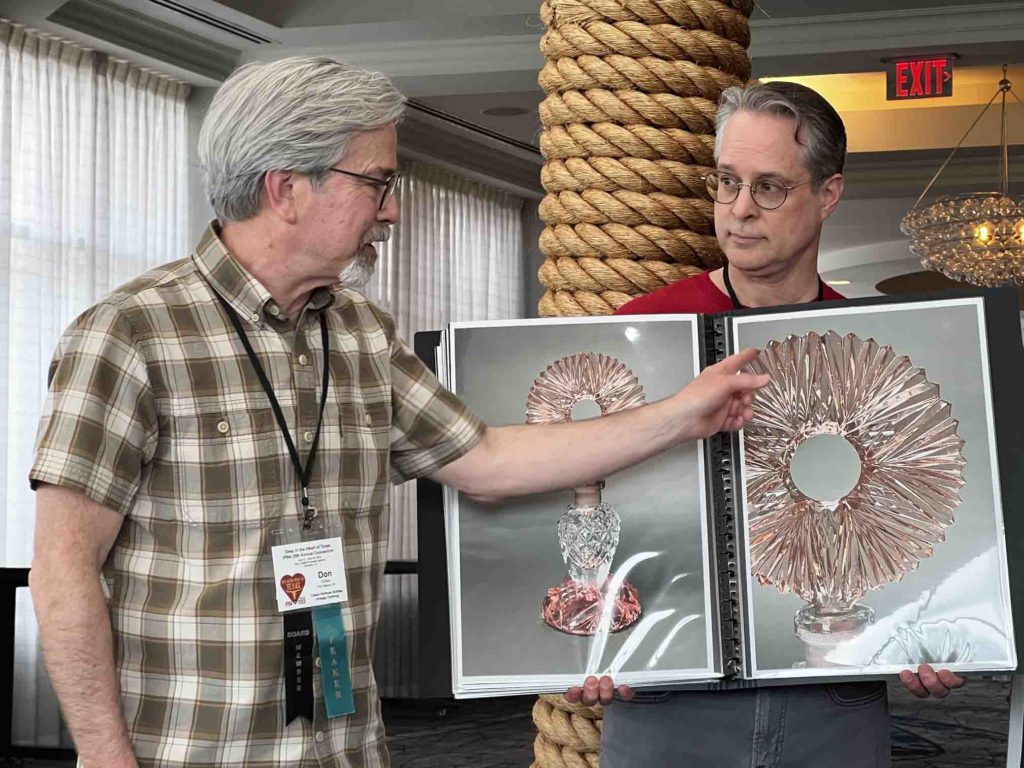 Small group gatherings included the following Table Talks with their facilitators:
~ Guilloche by Colleen Barrick
~ All About Minis by Lillie Gold
~ Shocking Schiaparelli by Shirley Hanick.
~ Studio Art Glass by Sheri Hopper
~ Indie Perfume Industry by Deborah LeBron
~ Simply Czech by Don Orban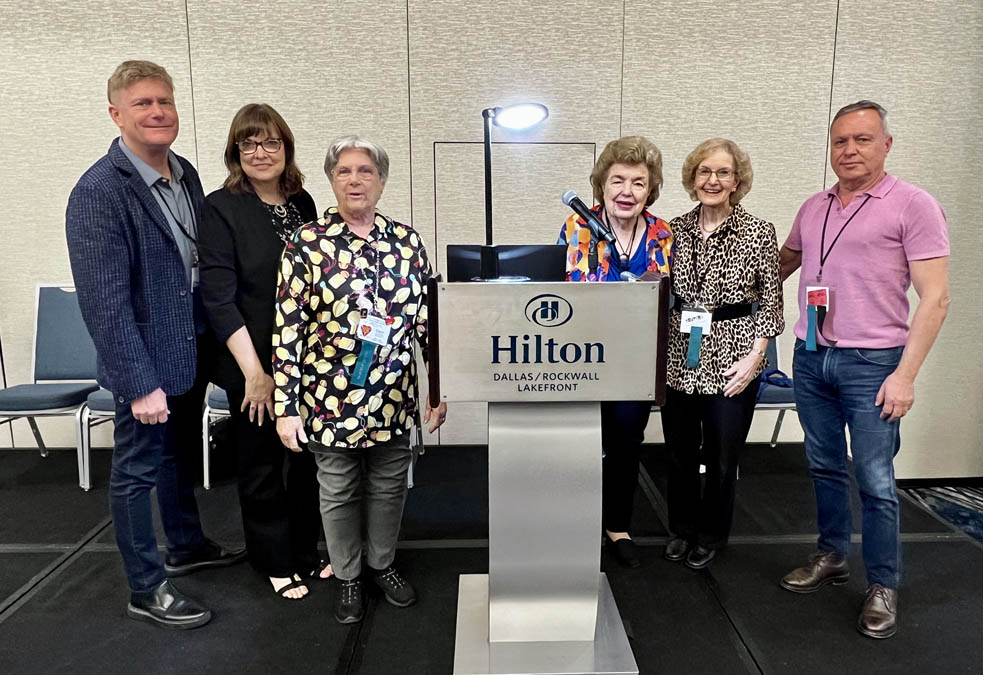 Two theatre-style presentations were given. The first was a symposium on figural shaped items.
Elizabeth Creech was the Master of Ceremonies for this symposium where the topics included Dime Store Novelties (Carol Caslow); Solid Perfumes and J. Paul Gaultier (Shelley Bechtold); Commercial Perfumes (Afonso Oliveira); Masculine Scent Containers & Men's Cologne (Jeffrey Sanfilippo); and Figural Scent Bottles 17th thru 19th Centuries (Joyce Geeser).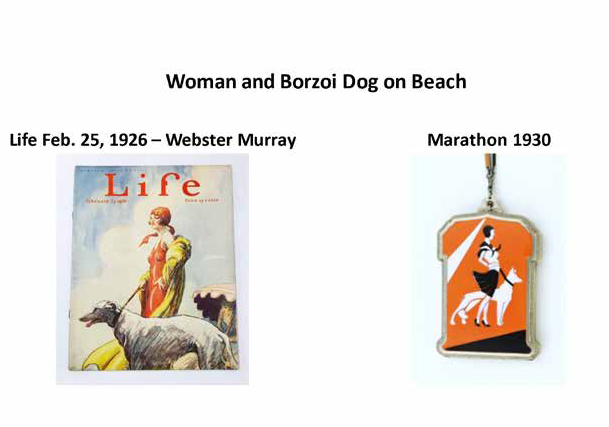 An avid collector of both advertising and compacts, Howard W. Melton merged these two collections into "Bigger than Life: 20th Century Fashions & Compacts".
Howard showed how the fashions illustrated in Life magazine in the 1920's and 1930's influenced compact designs.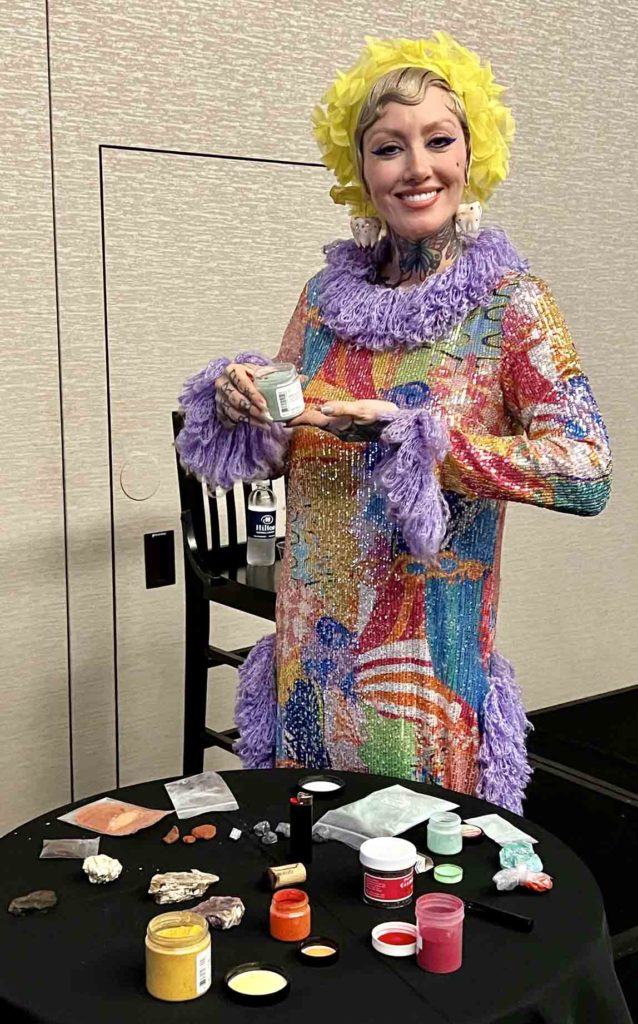 Erin Parsons: Celebrity make-up artist … Maybelline's Global Ambassador … Collector of cosmetics and their containers. All were brought into focus with the mesmerizing Keynote speech "Beauty Through the Ages". It was as entertaining and upbeat as she is in person.
We were taken on a journey to reproduce Nefretiti's iconic look using charcoal for the thick eyeliner to eyeshadow ground from malachite and lapis to Queen Elizabeth I's famous white skin using pulverized lead to Hollywood's make-up tips.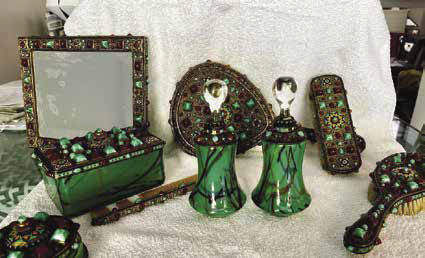 During Treasures Found, experts provided us with new insights to demystify our bottles, powder jars and perfume jewelry. Members were asked to send in photos with any information they had prior to convention allowing the experts time to research the items.
Since items are constantly being found, members were also able to bring in their items that morning. The panel of Experts and Facilitators included: Susan Arthur, Richard Bell, Marsha Crafts, Helen Farnsworth, Joyce Geeser, Shari Hopper, Afonso Oliveria, Judy Parker and Jeffrey Sanfilippo.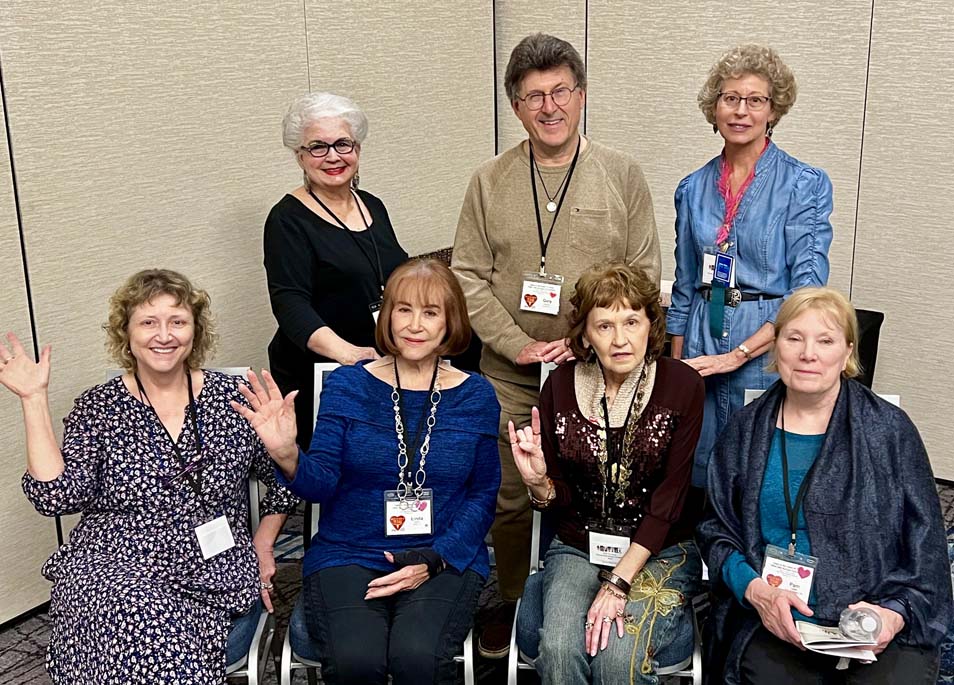 We were introduced to new friends during the First Time Attendees Orientation Meeting. We met members and friends in the hallways, in the elevators and around the Welcome Desk, catching up with one another about new treasures recently purchased. We continued socializing during the tours, Bingo, meals, and in the hallways.
A newly updated Collecting 101 presentation was a beginner's overview into the glittering, innovative and fascinating world of perfume bottles, compacts, purses and other vanity items that are out there to collect.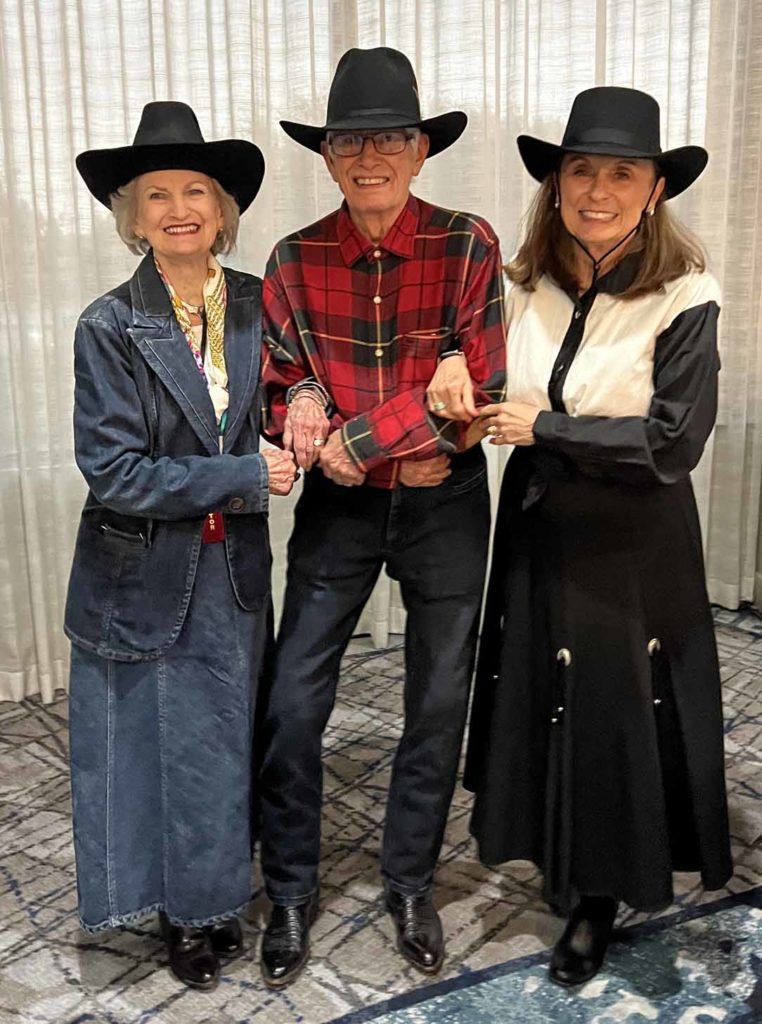 Movie night was a chance to Strut your Texas Stuff by competing in contests: Biggest Hair, Best Texan Boots, Best Dressed Duo, Best Rodeo Look, Best Western Hat, and Best Western Jewelry.
The fun didn't stop there, for the audience enjoyed State Fair, a Rodgers and Hammerstein musical, so much that they sang along with the actors!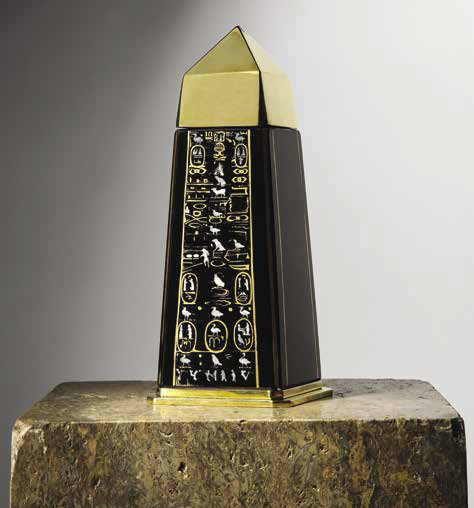 The 152 lots of the Perfume Bottles Auction were spectacular!
We watched and participated on laptops, phones and tablets, winning some, missing out on others, but always amazed at the quality of items up for sale.
Check out the auction highlights here!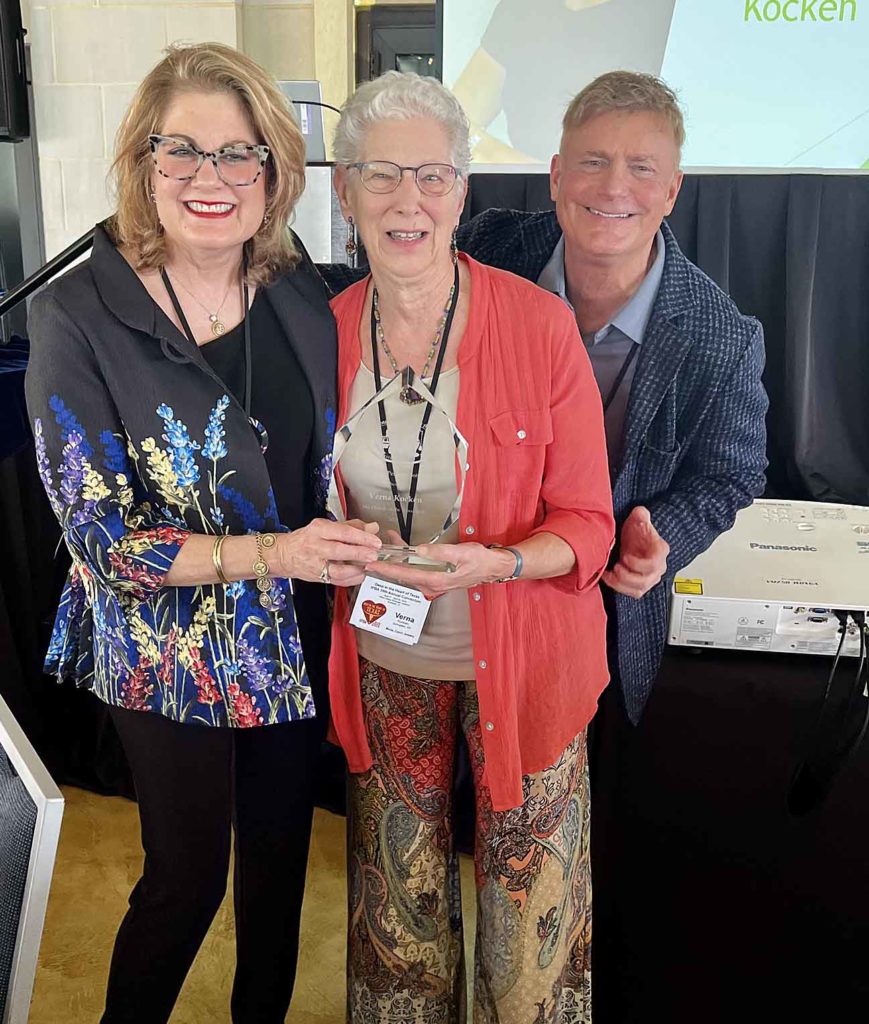 The IPBA is an all-volunteer association where we recognize the extraordinary contribution of our members and their accomplishments in the IPBA and throughout the field of perfume bottles and vanity items during the Annual Luncheon.
The Honors of the Association was awarded to Verna Kocken for her work over the years with the IPBA. The Shining Star Award was presented to Joan Turco and to Pauline Turco. Joyce Geeser, Helen Farnsworth and Madeleine France received the very first Wise Owl Award for being at the first IBPA convention and leading us "so wisely through thick and thin and everything in between all of these years!"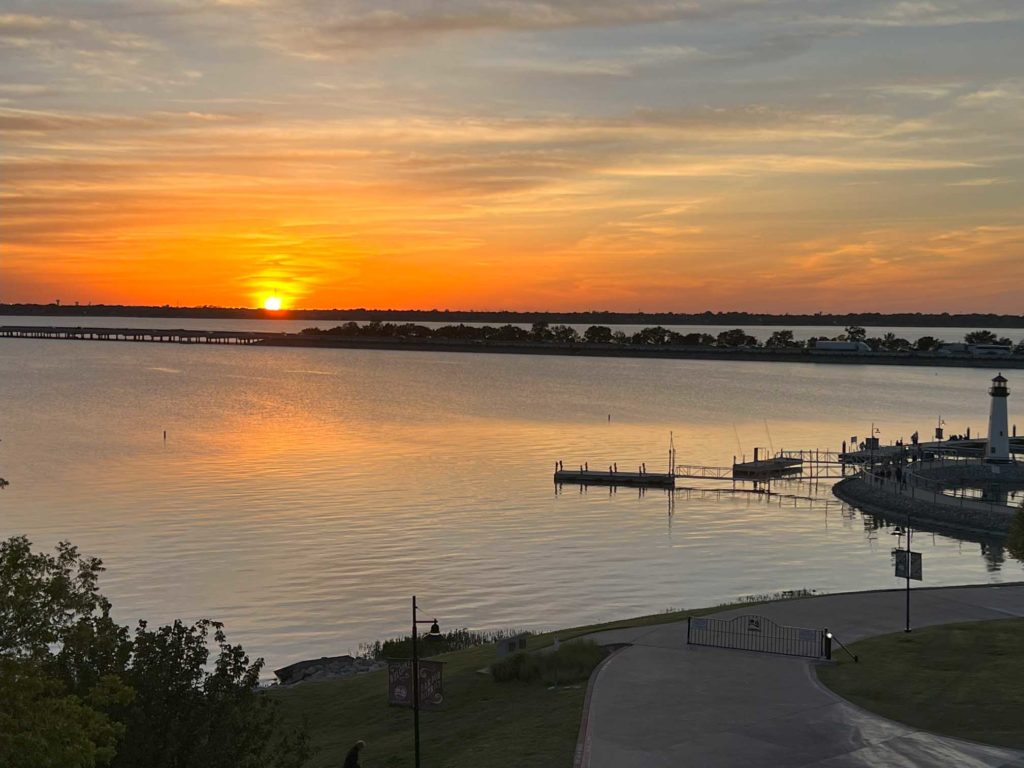 Dallas was truly an exciting and memorable convention for all of us attending. Hope to see you at our next convention!