Our 2022 Convention was truly a fun and memorable event!! We were so excited to be able to meet in person again and enjoyed the camaraderie of our collecting friends and meet some new ones too.
The convention had a spectacular Vintage Perfume Bottle and Vintage Vanity Show and Sale that absolutely dazzled everyone who entered. There were so many wonderful new treasures to add to our collections and our Vendors had a wide selection from vintage perfume bottles of all genres, Czech, Commercial, Victorian – big ones, little ones, rare ones and extremely stunning ones.
They also carried an incredible array of vanity items from purses, compacts, lipsticks, and ephemera – simply beautiful items for any collector to cherish.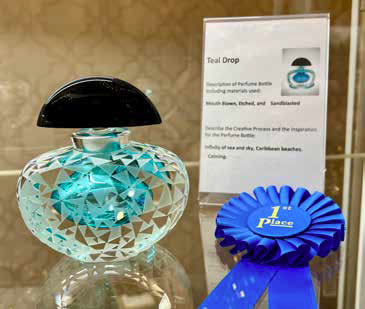 Not to be missed this year in our wonderful showroom were some artisans that create new perfume bottles and both artisans had entries and were semi-finalists and winners in our 6 th Annual Perfume Bottle Design Competition. This is a global competition where anyone can enter. (If you are interested in participating next year please see the rules on our website.)
From all the entries there are ten top semifinalists chosen. Once chosen they send their gorgeous, original designs to the convention where our attendees were on hand to view and vote for their favorite. Congratulations to all the semi-finalists especially our top three winners: Gustavo Santana, Holly Gage and Elaine Hyde.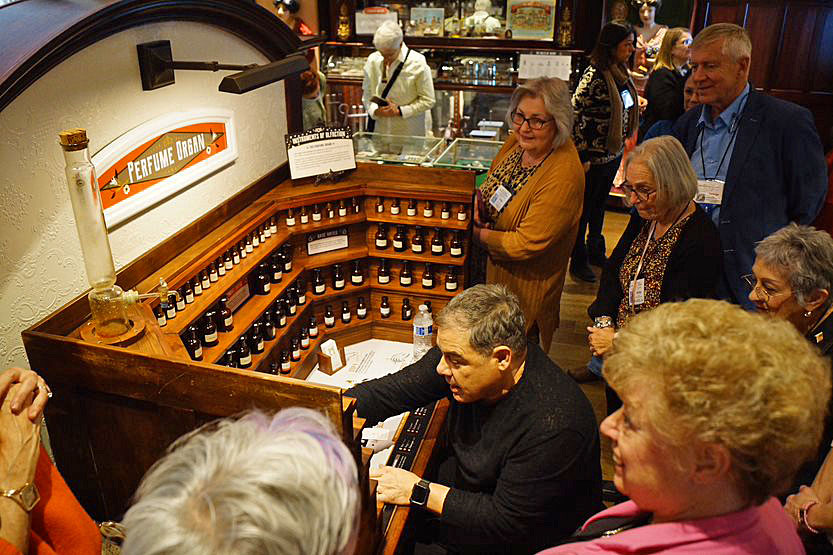 If you came in a day or two early, you had the opportunity to go on one of our tours. On Wednesday we had two tours where everyone was treated to the Symphony of Scents and Sounds. This was an intimate tour of Perfume Passage and Place de la Musique as never before seen. There were many new exhibits to be found in Perfume Passage, the day included intimate stories about featured pieces in the collection, description and use of a Perfume Organ, and a live organist on the fabulous pipe organ.
It was a day filled with learning and wonderment. Last stop on the tour was a visit to see the IPBA Collection and Library, both located on the premises. An amazing day.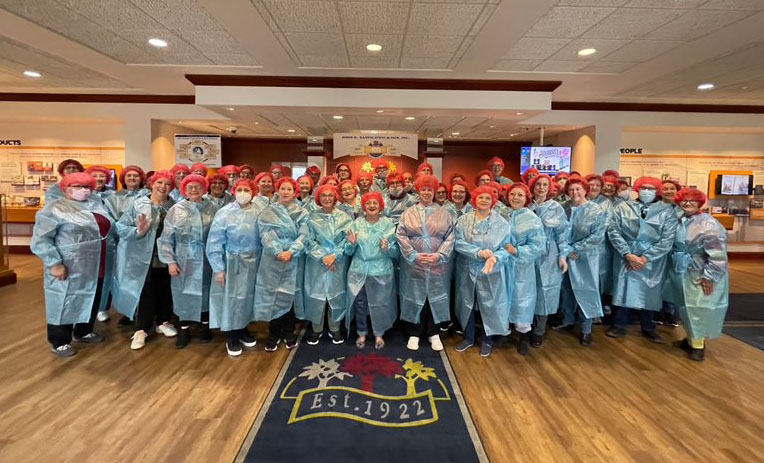 Our members had the rare opportunity to tour the Fisher Nut Manufacturing Facility. Talk about Made in Chicago! The Fisher Nut Manufacturing Facility is not open to the public, but this tour was a special event for our convention!
With over a million square feet the facility was mind blowing with robotics and machines as well as plenty of long-term employees carefully making sure the quality and care of each item packaged and created at the facility was done perfectly. This was a fun and eye-opening experience.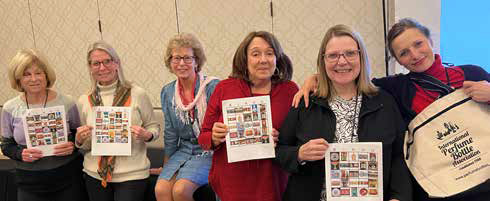 After everyone's wonderful tour of Perfume Passage and the Fisher Nut Manufacturing Facility what could be more fun than IPBA Bingo? Using photos from our Virtual Museum Barbara W. Miller put together some exciting Bingo games using perfume bottles, compacts and our IPBA pins.
It was a great way to kick start this year's convention events while having a blast and winning some great prizes too.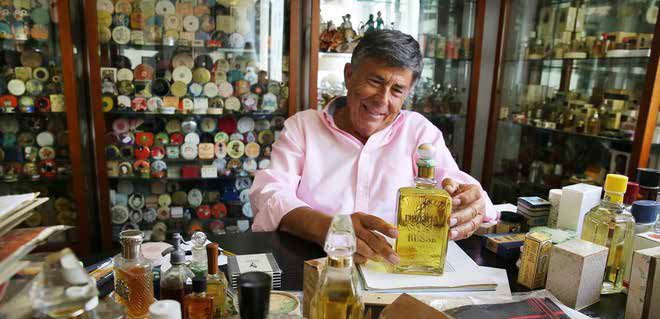 On Thursday we enjoyed quite a collection of interesting and educational Vanity Table Talks such as:
Czechoslovakian Perfume Bottles by the Josef Schmidt Company with Paula Walker,
The Curious Collectors Guide to Dating Mesh Bags with experts Sherry and Mike Miller,
Collecting perfume-theme "Hongbao" aka Chinese Red Envelopes with Hervé Husson,
History of Spanish Perfumes with Afonso Oliveira – sharing much of the collection of Juan Crivillé,
A Killer Collection… Poison Bottles with Deborah Weiss De-Brown
Miniature Antique Frames with Mary Ellen Robertson – who brought in and showed much of her collection for everyone to view.
With this impressive and wide range of topics from some very notable experts and collectors surely most of us learned something new or maybe even started a new collection.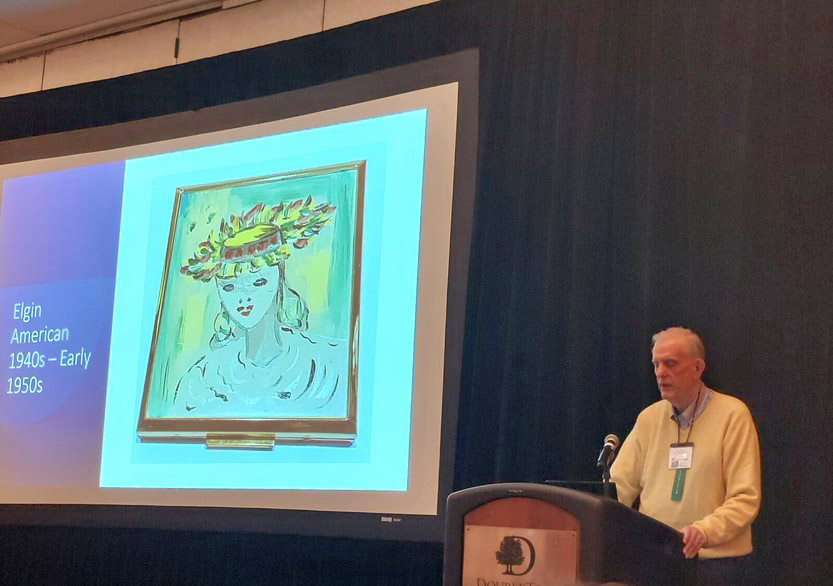 Our Friday presentations were top notch with our members sharing their knowledge and expertise in all areas of perfume bottle and vanity item collecting. We enjoyed A Potpourri of Compacts with experts and authors Howard Melton and Michael Mont sharing with us some of their collection which was riveting and breath taking.
Shari Hopper, contemporary art glass expert and artisan gave a wonderful and enlightening presentation on The Mysteries of Glassmaking Revealed.

At our Annual Business meeting where we discussed the business of the IPBA we also gave out awards for some of our most outstanding members who volunteer and endlessly give up their time and knowledge to help lead and guide the IPBA in new and refreshing ways:
Receiving well deserved Shining Star awards are Hervé Husson, Phyllis Dohanian, Julie Carry (Posthumously), and Richard Bell. And our most prestigious award The Honors of the Association was given to Deborah Washington (Posthumously). See the details of the Honors of the Association and Shining Star award descriptions.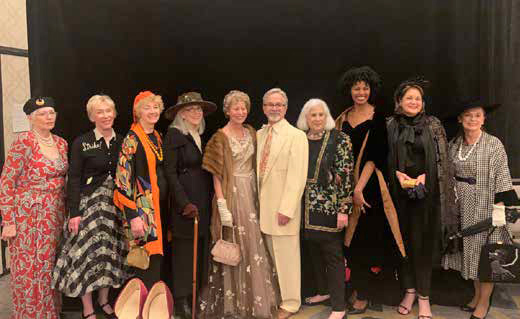 This event was followed by an our very own entertainer and fashion guru, Bette Sherman. This event was a fabulous Vintage Clothing Runway Show and was more fun than you could imagine, called Dressing for the Occasion from Boudoir to Ballroom.
With Bette's repartee' and expertise, add in just some of her amazing vintage ensembles and our very own IPBA Vintage Models; we had a show that certainly would have rivaled any on the Paris Runway!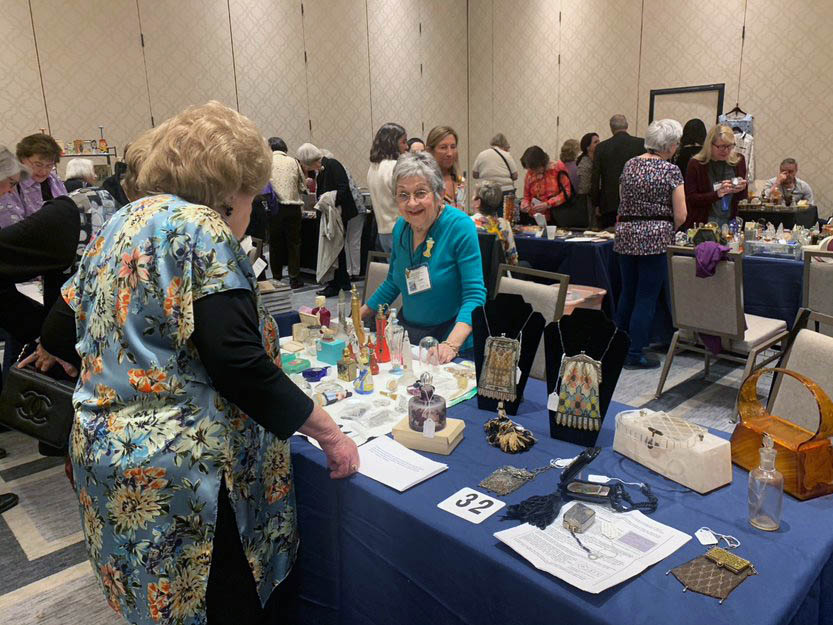 In the evening we had one of our favorite events call The Collectors Market.
This is where our members buy and sell in Flea Market style. Many bargains of the highest quality were found here.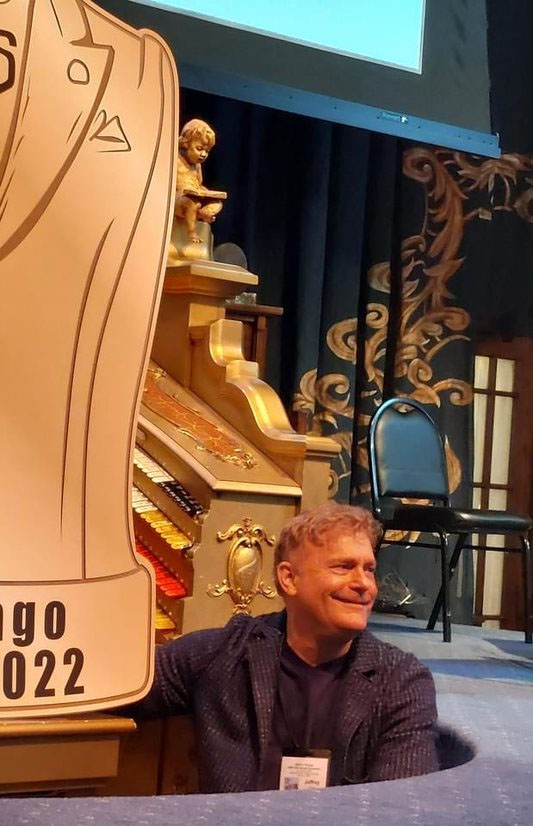 On Saturday we were all treated to the day at the Sanfilippo Estate and after the Keynote presentation were able to visit Perfume Passage and see all of the wonderful, themed rooms along with so many new exhibits that were put together just for our convention's visit such as a Mini World or Made in Chicago.
First up at the Sanfilippo Estate was Made in Chicago our feature presentation with Jeffrey Sanfilippo who was truly eye opening. So fun to watch Jeffrey and a giant HIS bottle rise up from below – what an entry. I don't think any of us really imagined all the beauty products made in the Chicago area.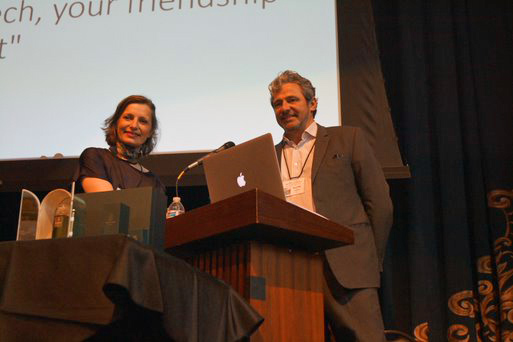 This year we were honored to have a very special Keynote Speaker, Veronique Coty. She delivered such a moving discussion about her family history and the global and highly recognizable brand of Coty perfume with her presentation of Francois Coty's Perfumed Timeline. The event took place at the fabulous Sanfilippo Estate on the very doorstep of Perfume Passage. Veronique shared with us several of the original formulas of her great Grandfather, Francois Coty.
Everyone enjoyed the opportunity to sample these beautiful fragrances. Veronique also shared what she is doing today in growing this fantastic family business. What an incredible event to have been on hand to witness and smell these lovely fragrances.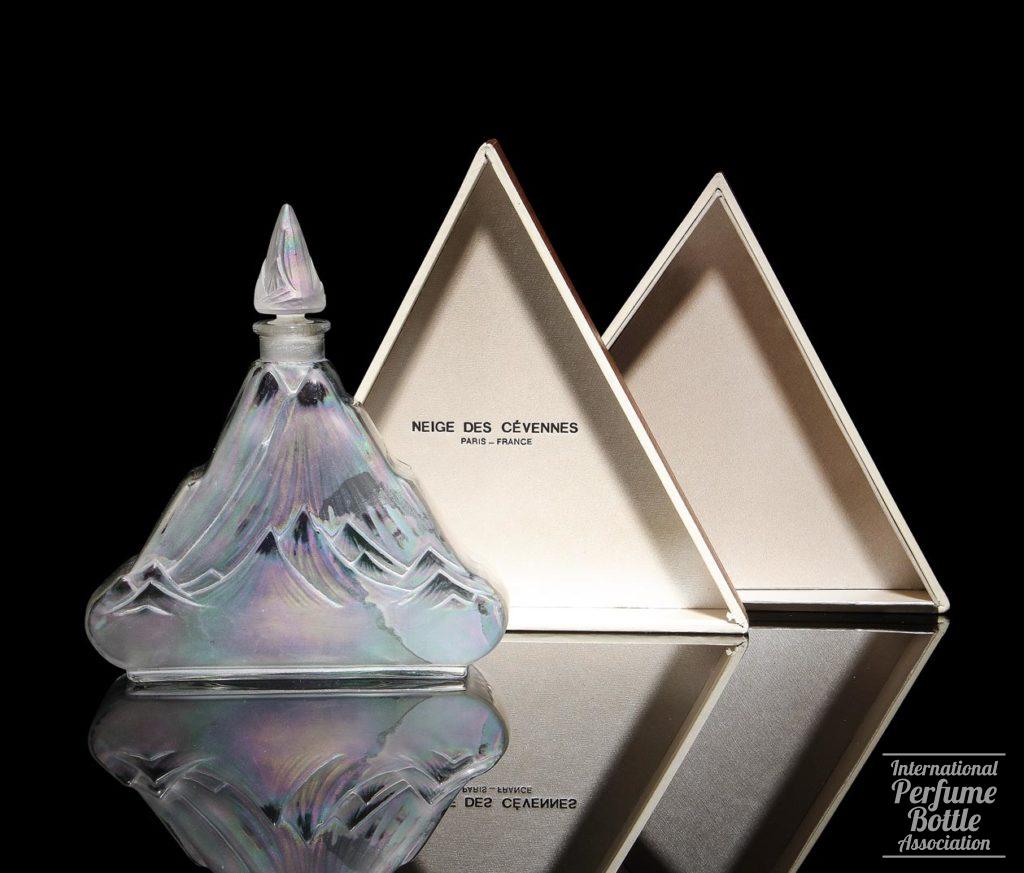 To cap off a spectacular day was the world-famous Perfume Bottles Auction! Featuring some of the most rare and gorgeous lots on the auction block to date. Such as an extremely rare 1912 "Oreilles Epines" bottle by Rene Lalique, featured in a 2005 episode of the Antiques Roadshow bringing in a winning $84,000 bid.
There were many enthusiastic online bidders who competed with multiple phone and absentee bidders over 188 curated lots, chosen to suit every pocketbook – resulting in a wide spread of wins from a 1934 mini bottle for Caron ($60) to the 1924 "Sous les Neiges" bottle in box ($39,000) inspired by a snow-covered French mountain range. Go to www.perfumebottlesauction.com for more information about this and other perfume bottle auctions.
Sunday brought Treasures Found our final event of the convention. This event is a crowd favorite. Members bring in treasures they found and ask our panel of Experts about these items. Sometimes they need explaining as to what it is or the era or Country of Origin. Our experts this year were Richard Bell, Joyce Geeser, Helen Farnsworth, Marsha Crafts, Afonso Oliveira, Sherry Hopper and our facilitators were Susan Arthur and Jeffrey Sanfilippo. As always everyone in attendance has information to share on the items brought in for this event.
It was a jam packed few days – we learned so much and were together again. What an exciting time we all had!