Thanks to everyone's contributions, the IPBA Virtual Museum welcomes its 5,000th item.  It is a crystal atomizer with black enamel Art Deco decoration, and hangs from a chrome and glass frame that mirrors its shape.  Unsigned, it is probably of Czechoslovakian manufacture.
It is one of a cohort of similar atomizers, possibly by the same manufacturer.  Images courtesy of the 2005 and 2006 Perfume Bottles Auction Catalogs by Monsen and Baer.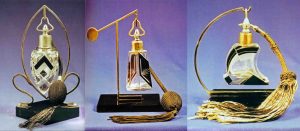 If you know anything more about these atomizers, please contact our Webmaster at webmaster@perfumebottles.org.
The Virtual Museum is always looking for new items. See Submission Guidelines.