Our 2022 Convention will be held IN PERSON April 28 – May 1, 2022 in Chicago!
See the Preliminary Schedule of Events!
Covid Vaccinations will be Required
ONLINE REGISTRATION IS NOW OPEN!
Some highlights of the Convention will include:
OPTIONAL TOUR: SYMPHONY OF SCENTS AND SOUNDS – Wednesday April 27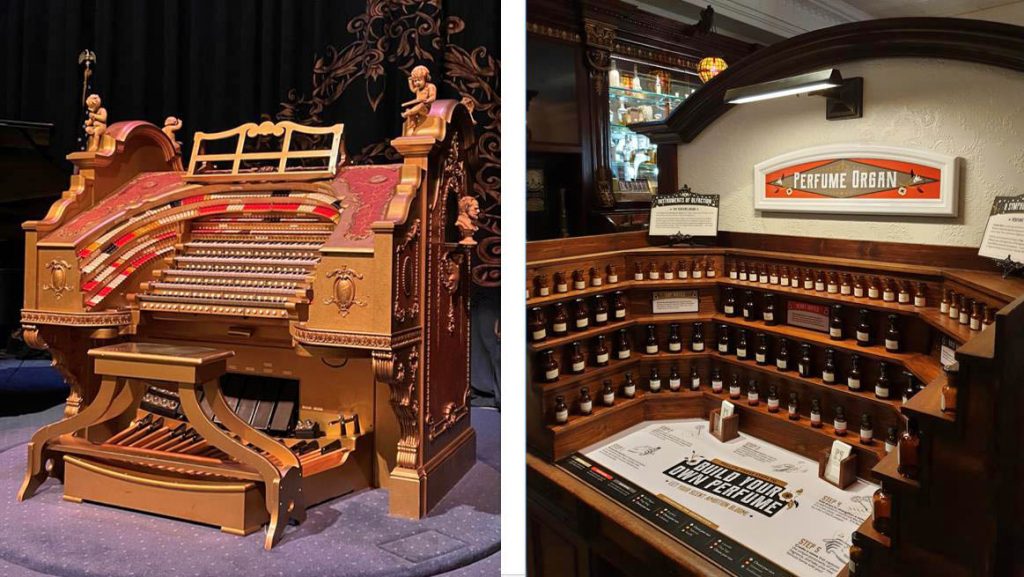 The Symphony of Scents & Sounds tour will captivate you with this Intimate view of Perfume Passage and Place de la Musique. Everything from a live organist playing perfume presentations to a hands-on experience with a perfume organ, includes fascinating stories about highlighted pieces in the collection, wonderful new exhibits, and a behind the scenes tour of the organ chambers.
Lunch and Transportation provided.
LETS PLAY IPBA BINGO – Wednesday April 27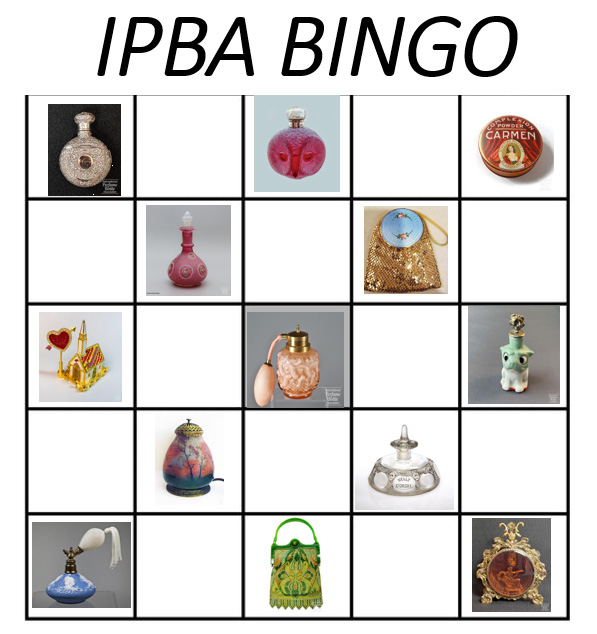 Special Event hosted by Barbara W. Miller
After your wonderful tour of Perfume Passage what could be more fun than IPBA Bingo? Using photos from our Virtual Museum Barbara has put together some exciting Bingo games using perfume bottles, compacts and our IPBA pins. Come join in and have a blast while winning some great prizes too!
Let the games begin!
OPTIONAL TOUR: SOLD OUT!! FISHER NUT MANUFACTURING TOUR – Thursday April 28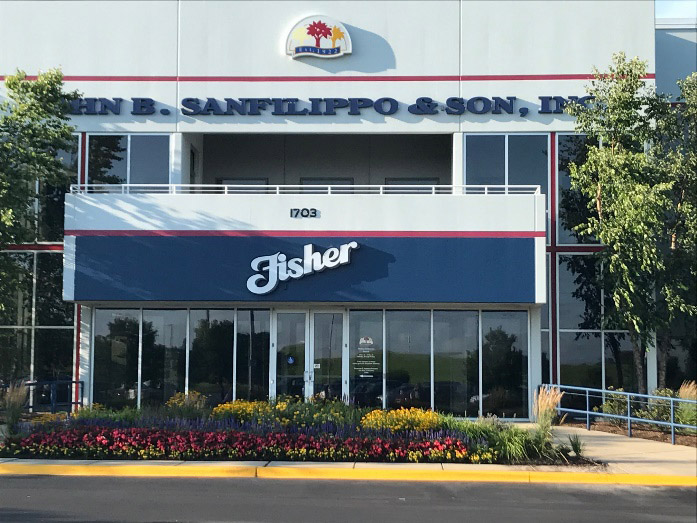 SOLD OUT !! Featuring over 90 production lines and 77 shipping docks, the facility ships over 800,000 pounds of products daily. Ever wonder how it's all done? Plan to Come and see for yourself! The plant is not open to the public -this tour is a special event for our convention!
Transportation provided.
VANITY TABLE TALKS – Thursday April 28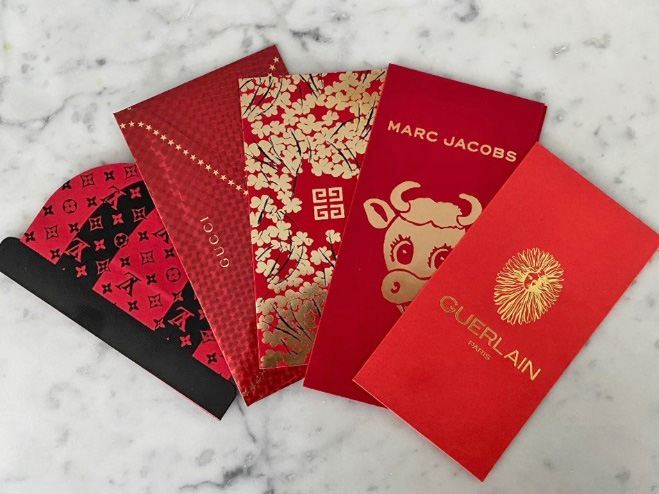 "HONGBAO" aka Chinese Red Envelope, Red Packet or Red Pocket.
Presented by Herve Husson.
He will review a few perfume-companies themed Hongbao and will show you subtilities that can be observed in them and the most desirable ones.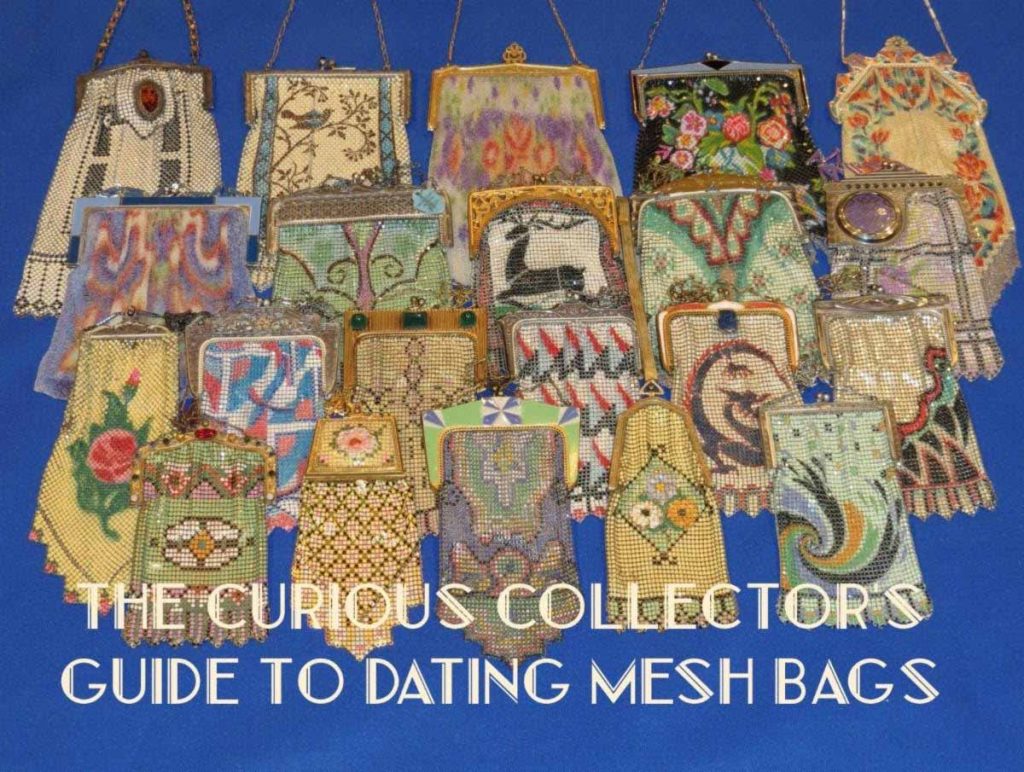 THE CURIOUS COLLECTOR'S GUIDE TO DATING MESH BAGS
Mike and Sherry Miller are often asked "When was my mesh bag made?" Join Mike and Sherry at one of our Vanity Table Talks as they share with us what they have learned through their journeys on how to do just that. Their talk will include beautiful images from dated catalogs, vintage magazine ads as well as patents that show many of the mesh bag designs you may recognize.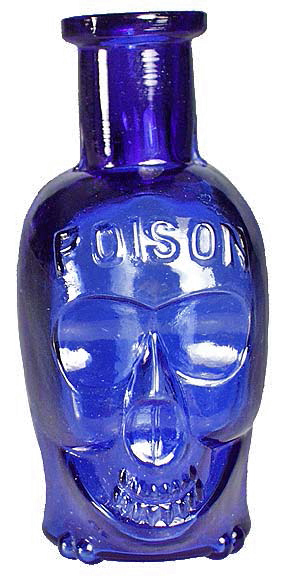 A KILLER COLLECTION – POISON BOTTLES
Presented by Deborah Weiss-DeBrown.
She will share with us the beauty of collecting poison bottles. From 1870 to 1930, many unique shapes and colors were used to distinguish poison bottles, so they looked completely different than any food or medicine bottle. "POISON" or "DEATH" was imbedded amid patterns of raised latticework, deep grooves, geometric shapes, and, most commonly, the skull and crossbones. Deborah may also share with us the unusual way she displays her collection.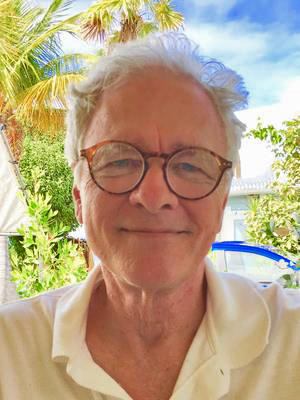 TED TALK WITH RICHARD HARNED
Glass Artist, Professor, and Kinetic Sculptor, Richard Harned talks about his Influences and Inspirations and his Creative Process. Richard trained under Dale Chihuly in the 1970's at the Rhode Island School of Design (RISD) with other artists of the American Glass Movement. In 1974, he established the Abstract Glass studio in Providence, Rhode Island. After graduating from and teaching at RISD, he also taught glass art at Arkansas State University in Jonesboro and the University of Tennessee. He joined the faculty of Ohio State.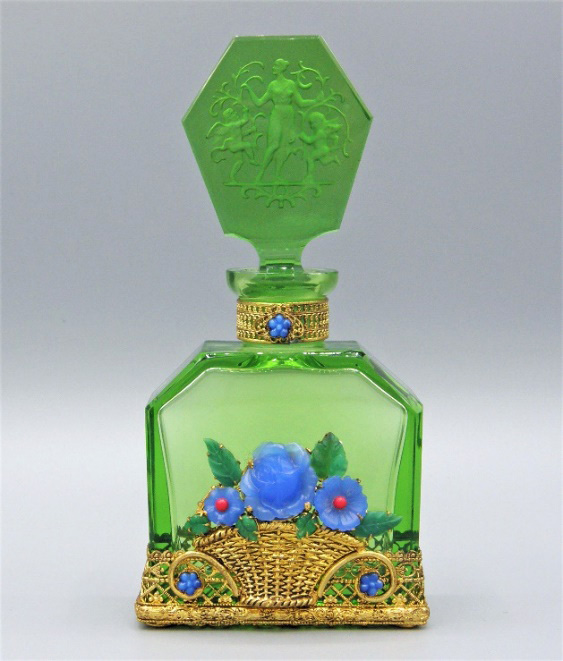 CZECHOSLOVAKIAN PERFUME BOTTLES BY THE JOSEF SCHMIDT COMPANY
Join Paula Walker to learn about this prolific producer of Czech-made vanity items. This lesser-known producer of quality glass from the Czech Republic presented items in the Leipzig trade fairs and sold through representatives in Berlin, Paris, London, Vienna, Hamburg and Warsaw in the 1920's and 1930's.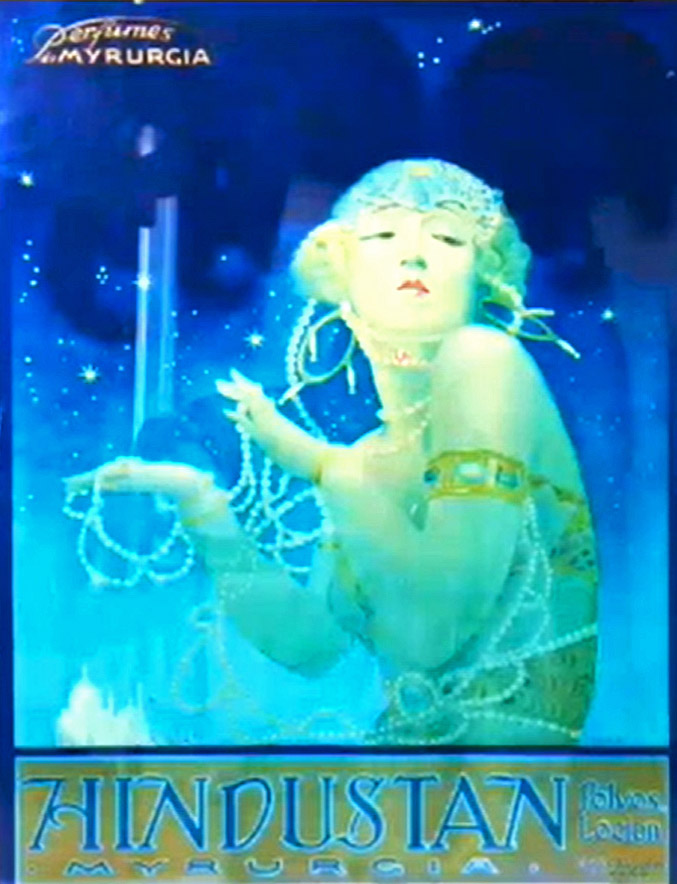 THE HISTORY OF SPANISH PERFUMES
Presented by Afonso Oliviera from the collection of Juan Jose Ruiz Criville.
Join Afonso on this enlightening excursion to Spain as he shares the fascinating History of Spanish Perfumes. Juan Jose Ruiz Crivlle is the creator of this wonderful presentation and it was originally given by Juan in Spanish.
CONVENTION SHOWROOM – Opens Thursday April 28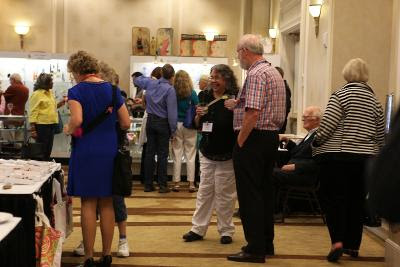 Leading dealers offering thousands of perfumes, compacts, purses and related vanity items to drool over and purchase will once again be a highlight of the convention during the "Perfume Bottle and Vintage Vanity Show and Sale."
Exhibitor contracts are being prepared and will be sent shortly to past showroom exhibitors. The showroom will be open several hours each day, with set up Wednesday April 27 and Thursday April 28. The showroom will open Thursday evening to our members.
The showroom will once again be opened to the public on Saturday and Sunday and all convention activities that are opened to the public will be greatly promoted.
There are several options for a "booth" in the exhibitor hall featuring rental showcases. Booths come with tables, chairs and electrical at no extra charge. Space may also be shared between two exhibitors.
Showroom exhibitor information is detailed in the contracts and exhibitors must commit to keeping their booths open until Sunday afternoon. All exhibitors are required to be vaccinated.
If you've never set up in the showroom before and would like to receive a contract, please contact Andra Behrendt, Show Chair at: [email protected]
PRESENTATION – A POTPOURRI OF COMPACTS – Friday April 29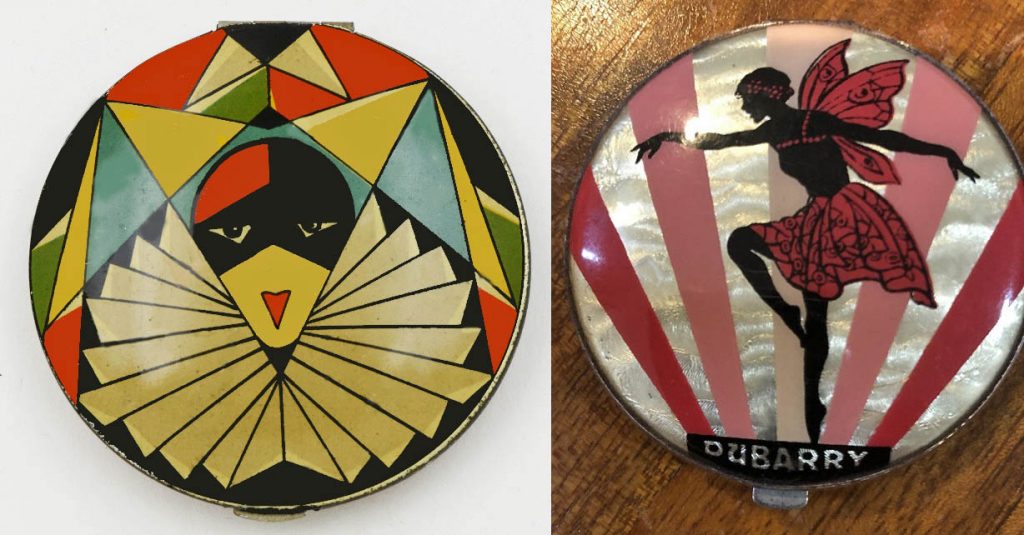 Presented by Howard W. Melton and Michael Mont
Explore an array of collectable compacts, including a newly discovered cache of early J. M. Fishers, French and Austrian Art Decos, French Glitters, Dubarry Ballerinas, as well as newly discovered unique designs and more.
From the early 1920's through the mid-1950's, powder compacts were created in an astounding array of beautiful styles and designs. This survey looks beyond American compacts to include outstanding examples of English, French, and Austrian compacts from the Art Deco era and beyond.
Howard and Jo Anne Melton and Michael and Rhonda Mont are avid compact collectors. Melton and Mont are both experts in this collecting specialty and recently published a highly regarded book on the subject, "American Compacts of the Art Deco Era".
PRESENTATION – THE MYSTERIES OF GLASSMAKING REVEALED – Friday April 29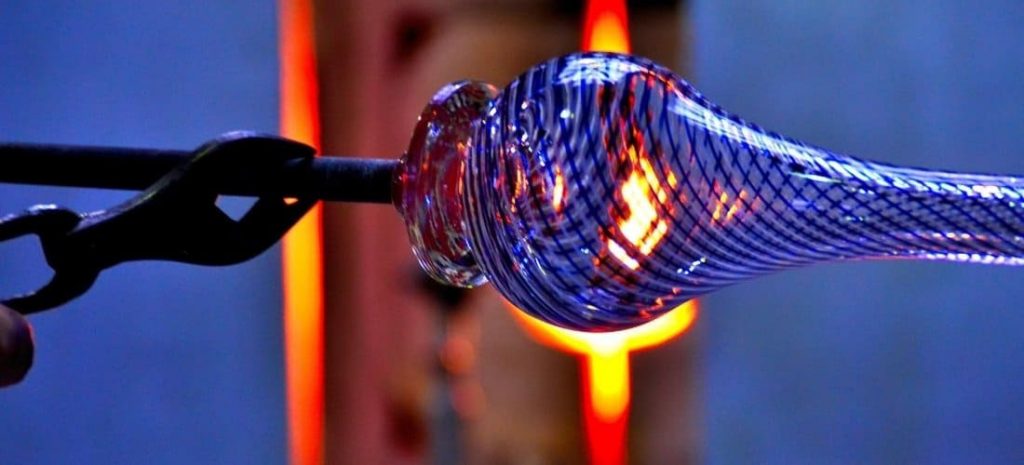 Presented by Shari Maxson Hopper.
Many people have a piece of glass in their collection that puzzles them as to how it was made.
If you have a mystery bottle, please send me photos and she will add it to her presentation to describe how it was made.
SPECIAL EVENT : DRESSING FOR THE OCCASION – FROM BOUDOIR TO BALLROOM – Friday April 29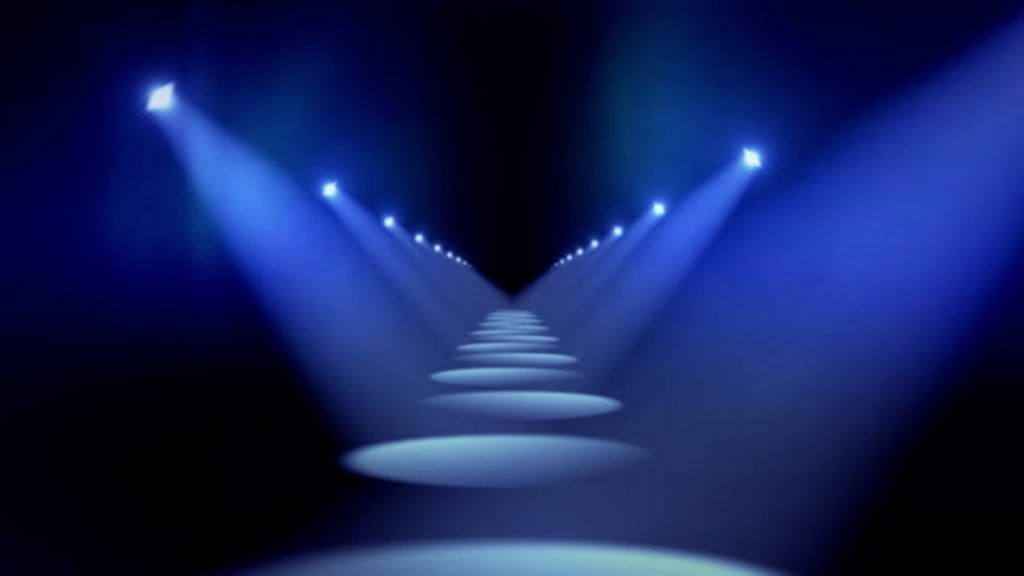 SPECIAL FASHION RUNWAY SHOW with Bette Sherman
Bette Sherman, fashion historian and collector, has shared her wit and knowledge with groups throughout the United States and even aboard cruise ships. Her collection of vintage fashion pieces has been featured in books on collecting and in antique periodicals. Join her for a light-hearted look back at the social history of the fashion and beauty industries from the 1900's to the 1960's.
You will be entertained with Bette's fun and interesting commentary as well as:
• A runway show featuring vintage pieces from Bette's collection worn by "super models" from the IPBA.
• A slide show presentation highlighting the changing styles in fashion and beauty.
• A table display of cosmetics, purses, perfumes and vanity items.
Tickets available for non-registered guests
COLLECTOR'S FLEA MARKET – Friday April 29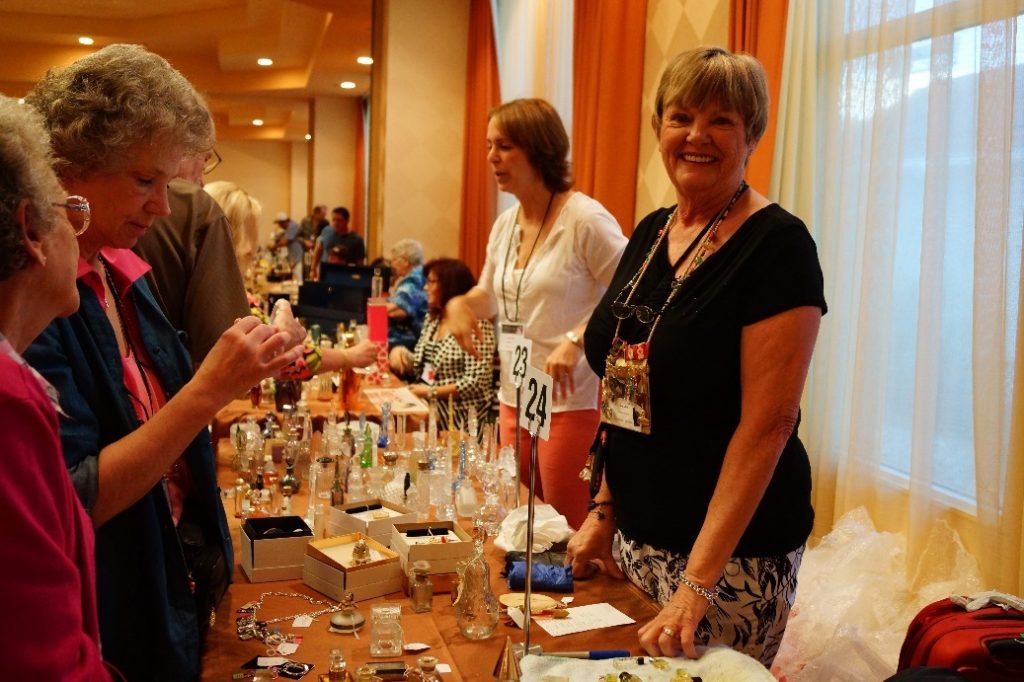 You will be amazed at the quality of items, offered at some of the best prices!
Reserve a space at the Collector's Market when submitting your convention registration.
IPBA EVENTS AT THE SANFILIPPO ESTATE – Saturday April 30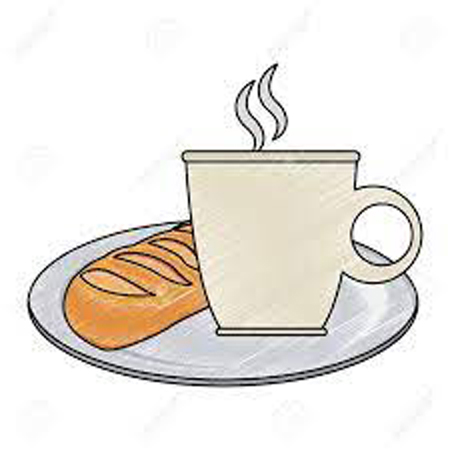 Join us for a enchanting day of IPBA Events at the Sanfilippo Estate.
We will travel to the Estate early in the morning. A coffee bar and light bites will be available when we arrive.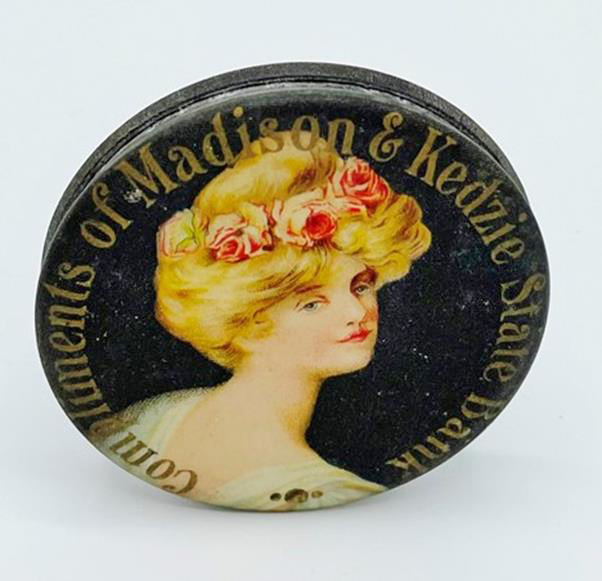 MADE IN CHICAGO
Presented by Jeffrey Sanfilippo
Why and how did Chicago become a major city for entrepreneurs in the fragrance and makeup industries? This presentation will take the audience on a journey through the rich history of perfume and cosmetics manufacturers in the "Windy City".
Discover artifacts from the 1893 Columbia Exposition and the Chicago Century of Progress 1933-34 World's Fair. Enter the doors of department stores such as Marshall Fields, Pitkin & Brooks, May & Malone, and Sears to see their vanity items. Learn about 'One Hit Wonders', the variety of obscure small perfume companies that stayed in business for just a short time.
Topics will include Wrisley, Valmor, Bullock & Ward, Boyer, Luxor, Franco-American, Blocki, Jas. S. Kirk, Baldwin, Armour, Jovan, His, Maybelline and Princess Pat to name a few.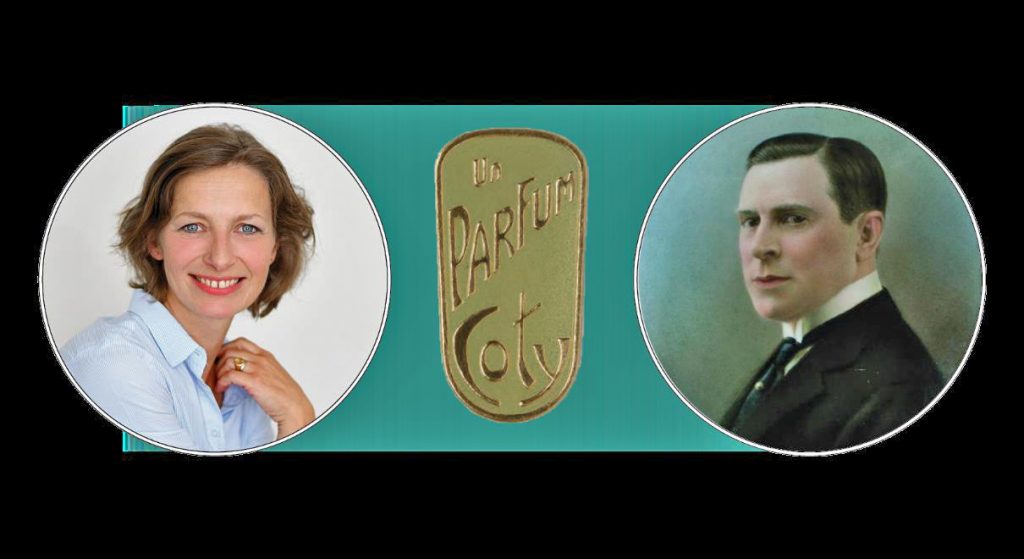 KEYNOTE ADDRESS – FRANCOIS COTY'S PERFUMED TIMELINE
Presented by Véronique Coty.
We are delighted and honored to welcome a very special guest Keynote Speaker this year, Véronique Coty. Véronique is the grand-granddaughter of François Coty who is known as a genius perfumer and the father of modern perfume. Véronique, currently serves as the Presidenté of the François Coty Association and Presidenté of La Cité des Parfum Inc- Spoturno.
Join us as Véronique shares her family's amazing history. Francois Coty's fascinating, bigger than life, story from his birth in Ajaccio in 1874 till his death in 1934 in Louveciennes.
We will enjoy smelling some original masterpieces; especially, "Emeraude" which celebrated its 100-year anniversary in 2021.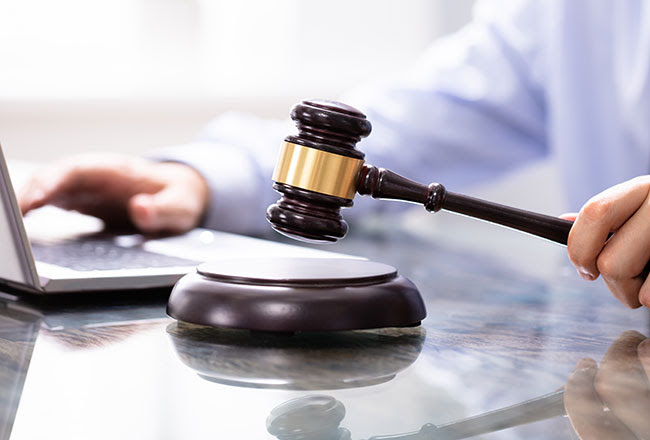 2022 PERFUME BOTTLES AUCTION
The Perfume Bottles Auction continues to set international records while unlocking the value of your perfume bottles and vanity items.
The 2022 Perfume Bottles Auction will be virtual. LIVE FROM NYC, Via LiveAuctioneers.
We can follow the live auction in the comfort of the Theater room on the big screen.
Be sure to bring your computers and tablets so you can bid on your favorite items. Wi-Fi is available, but we encourage you to bring your personal hot spots and portable chargers so there are no hiccups.
We will return to the hotel shortly after the Perfume Bottles Auction has concluded.
TREASURES FOUND – Sunday May 1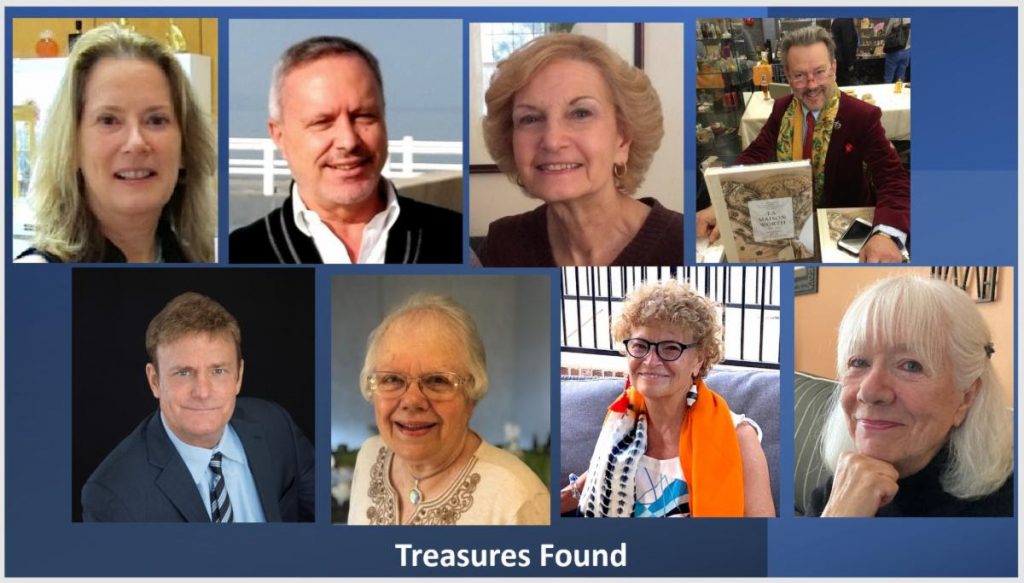 We are NOW accepting submissions for Treasures Found.
Last year our Experts had time to research the items in advance, and it was a huge success! Our Experts were able to share more details than ever before.
In your collection – Do you have items that you want to know more about?

If you would like to submit an item … Email Susan Arthur at: [email protected]izon.net
CONVENTION LOCATION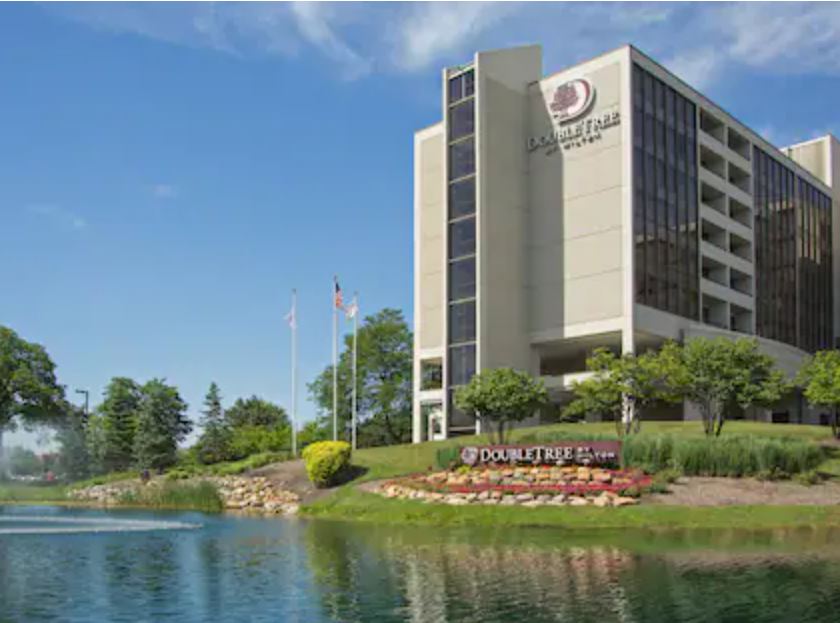 The DoubleTree by Hilton – Chicago – Oak Brook, IL
Registration Packets and Online Registration
Will be available in February 2022

Covid Vaccinations will be Required
IPBA Room Rate $129
Use this link to make your room reservations at the DoubleTree.
Start making your plans today!